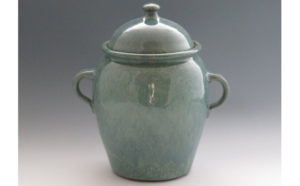 Hands-On Ceramics Workshop at the New Bern Arts and Wellness Center
919 Broad St.
Saturday, January 14th
9:30am – 5:00pm
Cost: $135 (Early-Bird $125 before January 7th)
The New Bern Arts and Wellness Center is excited to host "Vessels With Lids on The Wheel" with Master Potter Leon Nichols. Join us for a fun and productive hands-on pottery workshop with Leon Nichols! In this intensive one-day workshop we will focus on vessels with various styles of lids.
As a bonus, you will experience individualized instruction on throwing with less water. You will discover helpful tips and tricks all along the way. We will use heat sources to speed the drying time which facilitates learning.
This includes 1 bag of clay and lunch.
Limited Seating is available for "hands-on" participants.
"Audience Participation" registration is available for $45 – also includes lunch.
Leon has enthusiastically taught pottery 45 years to thousands of individuals and he is looking forward to coaching you!
For registration and additional information visit NewBernCenter.com/programs/ceramic/.
Submitted by: Cait Nolan, Manager, New Bern Arts and Wellness Center