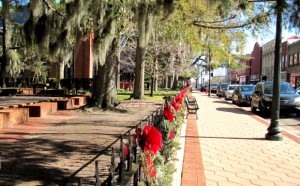 17th: Christmas Grab 'n Go Gift Day, 8:00am – 2:00pm at the New Bern Farmers Market. Call 252-633-0043.
17th: 46th Annual Christmas Parade in Havelock, 10:00am – 11:30am. Call 252-444-6429.
17th: Candlelight (Night Two), 4:30pm – 9:30pm at the Tryon Palace, Historic Grounds, Commission House, Stanly House, and Dixon House. Call 252-639-3500.
17th: The Bears Return to River Bend, 6:00pm at Attitudes Pub and Grill. Call 678-205-7309.
17th: Holiday Open House Jazz Jam Session, 7:00pm at The City Laundry. Call 252-876-7007
17th: Home for the Holidays Fundraiser featuring Laura Gammons, Hank Barbee, and Meg Wethington, 7:00pm at the Brown Pelican benefiting Habitat for Humanity Craven County. Call 252-633-5512.
17th – 18th: 2016 New Bern Santacon
18th: The Pamlico Flutes presents concert in Fairfield Harbour, 3:00pm at the Fairfield Harbour Community Center. Call 252-229-2033.
18th: 2nd Marine Aircraft Wing Band Christmas Concert, 6:00pm at the MCAS Cherry Point Station Theatre. Call 252-466-2330.
Listen to our latest "Living in New Bern and Beyond" Podcast episode for details about this weekend's events:

What are you doing this weekend?
Tell us what you think sending us an email. Visit New Bern Now's Facebook page or sign up for the latest updates by submitting your email address in the right margin on New Bern Now's website.
Wendy Card