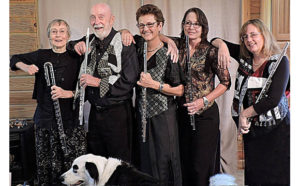 The Pamlico Flutes will present a flute concert for Fairfield Harbour and surrounding communities on Sunday, December 18 at 3:00 at the Fairfield Harbour Community Center.  The Fairfield Harbour Community Center is located by the Fire Station at 585 Broad Creek Road. The Pamlico Flutes will offer an eclectic Christmas program, including classic carols from around the world, ranging back to the 15th century, Nutcracker Suite excerpts, as well as 20th century favorites made popular by Bing Crosby and others. There might even be a little something in there from The Grinch! These musicians bring more than 200 years of musical experience to the program. They are looking forward to sharing the fruits of their musical passion with the Fairfield Harbor residents.
Tara Howard-North moved to Oriental from New England and parts north in 2007. With degrees in music education and an MBA as well as having played the flute since 3rd grade, we acknowledge her status as Benevolent Dictator. Tara also sings, plays and travels with the Pamlico Chorale, the Pamlico Community Band, the Coastal Notes woodwind quintet and the Tryon Palace Fife & Drum Corps. To support her passion, she is a project manager for a national construction management firm, currently at Camp Lejeune, building cool stuff for the US Marines. A memorable moment followed a 1982 flute trio performance to a packed house in Romania. A small local child approached the trio with a bouquet, and then asked if she could have Tara's shoes…
Michelle Noevere hails from East Texas then co-owned a restaurant for 15 years in the British Virgin Islands before discovering Eastern North Carolina in 1997. She blew the dust off her high school flute in 2007 to join the Pamlico Community Band, where she met Tara. They formed the Pamlico Flutes in 2010. When Michelle is not playing the flute, running half-marathons or gardening, she assists the president at Pamlico Community College. Michelle describes her performances with the community band and the Pamlico Flutes as "one of the most fun things she has ever done."
Caroline Paul is a General Surgeon and has lived in New Bern with her husband and four children since 1999.  She has been a fifer in the Tryon Palace Fife & Drum Corps since 2010, where she met her flute mentor, Tara Howard, who assisted her in making the transition from fife to flute.  She has also played with the Pamlico Community Band.  Her favorite musical moment was singing as a "Soul Girl," in Andrew Lloyd Weber's "Jesus Christ Superstar," with New Bern's Rivertowne Players.  She is honored to be the newbie in the Pamlico Flutes, and looks forward to broadening her musical horizons.
Denton Dodd literally breezed into Eastern North Carolina from New York, after careers as a history teacher and youth counselor. He sailed Down East in the '80's where he met his bride, Karen in Morehead City. During a wild hurricane season, they sailed into Fairfield Harbour, loved it and have lived there ever since. Denton began his musical education at the age of 8 with the violin. A self-taught flutist, he has played with the Downeast Dulcimers and Thursday Morn, both Fairfield Harbour groups. Denton can be spotted playing penny whistle, fiddle and flute for Irish Night at Trent River Coffee House.
Janis Rott was a computer programmer in her native Twin Cities, Honolulu, San Diego, and locally. She has explored and worked abroad, and is a veteran blue water sailor with husband Manfred. Janis studied voice, music history, piano and flute as a young child, continuing through high school band/orchestra and beyond. She has soloed at numerous local venues, including her favorite – nursing homes. A musical highlight was playing impromptu fundraising concerts in Georgetown, Bahamas with other transient sailors. Janis adds musical depth to the Pamlico Flutes with the "low voice" (alto flute), and she occasionally writes multi-part arrangements of traditional tunes to augment our repertoire.
If you plan on attending, call Karen Dodd at 252-229-2033 or Michelle Noevere 252-617-7405. There is no charge for admission. Tell us you're coming and we'll put a chair out for you.
Submitted by: Karen Dodd