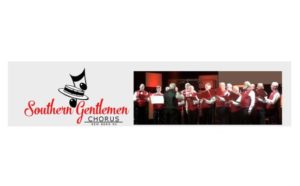 An evening of patriotic songs to celebrate and honor our local military veterans will be held Thursday, November 3rd in the sanctuary of St. Paul Catholic Church at 6:30 pm.
Each branch of the military will be represented by veterans presenting their service colors including a WW II veteran and a two time Purple Heart recipient.
The United States Colors will be presented by the New Bern High School Naval Jr. ROTC Honor Guard.
In addition to choral groups made up of all students of St. Paul School, Angela Jovanovich, NC Symphony violinist and accompanist, Barry Templeton, Music Director of the First Baptist Church, will perform.
The Southern Gentlemen Barbershop Chorus will provide a selection of patriotic songs along with Pipe Major Randy Tyson of the Greenville Public Safety Pipes and Drum.  The New Bern High School Small Ensemble Choir will also perform.
Organizer Megan Johnson, Fine Arts Enhancement Developer and Music Ministry Coordinator at St. Paul, expressed her goal "… is to continue exposing the children in our school and community to the men and women that have sacrificed so much for us and how they can give back gratitude and gain confidence in how they too can become better citizens".
For additional information about this free event, call Megan Johnson at 252-633-0100.
Submitted by: Bill Rust, The Southern Gentlemen Barbershop Chorus on behalf of Megan Johnson, Fine Arts Enhancement Developer & Music Ministry Coordinator, Music Teacher & Choir Director, Saint Paul Catholic Church and School