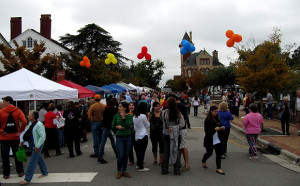 MumFest has been rescheduled to November 12-13 due to the effects of Hurricane Matthew. We anticipate that weekend to be a great fall celebration. "It was disappointing that MumFest had to be rescheduled due to the hurricane, but we are delighted to bring MumFest to our community in November," according to Swiss Bear (producer of MumFest) Chairman John Bircher. Most of our entertainers and vendors will be returning; there will be great performers from across the country as well as some of eastern North Carolina's very own and best talent.
Mumfesters will find music, dancing, lots of activities for children, great shopping, delicious food, art exhibits, and buskers filling the heart of New Bern's historic downtown and waterfront. We invite you to discover many never before seen attractions along with old favorites and over 200 carefully selected exhibitors and vendors.
Some exciting new attractions for 2016 include XPOGO extreme pogo athletes, The Spin-Man performing Harlem Globetrotter style stunts, a City of New Bern Public Works Large Trucks and Equipment Display, and Got to Be NC Alley at Galley Store Point which will feature North Carolina based producers of agricultural and food items.
Also new this year is the Bud Light Beer Garden, which will have televisions for fall football fans and a great live music lineup.
4EverAll – Saturday: 12:00pm – 1:30pm 4EverAll performs covers from Simon & Garfunkel to the Beatles, The Dave Matthews Band, Zack Brown, The All­man Brothers and Alison Krauss.
Caroline Dare – Saturday: 2:30pm – 4:00pm A 15-year old NC/Nashville, TN based singer/songwriter who performs both acoustically and with her full band primarily in NC, SC, and Nashville.
Ty Carreker – Saturday: 5:00pm – 6:00pm Ty is the lead guitarist for Sam Hunt, recording and touring with Hunt's band. He has been described as having the soul of Keb Mo or Craig David, the guitar laced melodies of James Taylor, and the coolness of Jack Johnson.
Jordan Davis – Saturday: 6:30pm – 7:45pm Jordan has been touring non-stop the past year and has opened for Chase Rice, Randy Rogers Band, The Cadillac Three, David Nail and more.
Bryan Mayer – Sunday: 1:00pm – 3:00pm A local singer/songwriter whose range includes James Taylor, Eric Clapton, Dave Mathews as well as his own originals.
Magnolia Still – Sunday: 3:30pm – 5:30pm A bluegrass / Americana 5-piece string band with original sounds and fresh interpretations.
Your favorite attractions will also be back! Alex Clark is a world traveled Cirque-de-Solei trained juggler and comedian, the Yo-Yo Guy holds four-Guinness World Records, and the high-flying Purina Dare Devil Dog Team will return to perform astonishing free-style disc routines set to music. And don't forget the kiddie rides – always a favorite – at Galley Store Point or the NC Vietnam Helicopter Pilots Association Helicopter Exhibit also at Galley Store Point.
Children (of all ages) will line up to watch EZ and KoZee International Clowns at the Sun Journal Kids Korner! Although new to MumFest, these clowns will prove to be a MumFest favorite with their silly improvisations. And Gary Shelton, will also perform his amazing magic act at Sun Journal Kids Korner.  Your kids will also be able to "Dig for Fossils", hosted by the Aurora Fossil Museum, at Kids Korner!
The Bank of the Arts will host a number of musical groups on Saturday, November 12, including:
ENCORE, Craven Community College's Show Choir, directed by Chauncey Stevenson, 12:00pm.
Down East Dulcimers and Thursday Morn' are performing together to provide a wide range of instrumental and vocal sound. Their instruments include hammered and lap dulcimers, fiddle, dobro, cajon drum, pennywhistle, harmonica, banjammer, U Bass, and mandolin. They perform Old Time fiddle and dulcimer tunes, and Civil War, Celtic and bluegrass tunes, 2:00pm.
Strung Together is a family-based musical group that believes music brings families closer together. They play folk, old-time, Americana, spirituals, a bit of bluegrass and a dash of country–the common theme is performing songs they love, 3:45pm.
Craven Brass Quintet performs brass compositions from the Baroque, early American, Civil War, and Big Band eras, and more. The quintet is comprised of: two trumpets, French horn, trombone, and tuba, 2:15pm.
MumFest is not complete without the stunning Tryon Palace Gardens being open to the public. Visit the gardens to see beautiful mum plantings and the Palace's Fall Heritage Plant Sale. This year the New Bern Academy Museum will also be open during MumFest, The Academy is home to four permanent exhibits focused on the Civil War, New Bern Architecture, and the building's history.
Be sure to visit the Ella Bengel, a 1933 fire truck that will be parked in front of the New Bern Firemen's Museum. Speaking of fire, the new Fire Safety House for children and a new model fire engine will be found next to the Firemen's Museum as well.
MumFest is a combination of fantasy, fun and entertainment that has attracted visitors to the beautiful and historic downtown waterfront for 36 years. MumFest has been recognized as a Top 20 October Event in the Southeastern United States by the Southeast Tourism Society and in 2016 was voted the Best Festival and Best Event in the annual Sun Journal Readers Choice Awards.
New Bern's beautiful historic downtown has become a shopping and dining destination with its many art galleries, boutiques, restaurants and waterfront parks. Come spend the weekend with us!
Keep checking MumFest.com as more information is added.
Submitted by: Lynne Harakal, Director, Swiss Bear Downtown Development Corporation