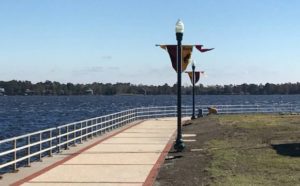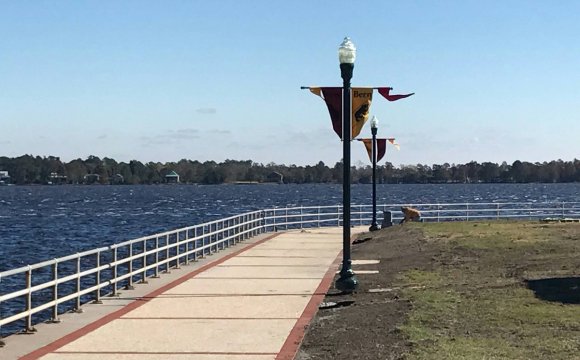 The City of New Bern has recently completed an extension of its popular Riverwalk. On Wednesday, November 23rd, city officials and staff will recognize the completion of the project and officially open the new Riverwalk with a ribbon cutting scheduled for 12 p.m. The public is invited to attend.
This extension adds 600 feet to New Bern's Riverwalk, which begins on Walt Bellamy Drive and continues to Council Bluff Green on East Front Street. Construction started on the most recent section in September, with the installation of an underground drainage system along the bulkhead. Then, crews installed sidewalks, brick pavers, light poles and park benches. The project cost $75,000 and was completed last Friday.
"There was so much excitement over this project from day one when we put up the construction fencing," said Matt Montanye, Public Works Director and manager of the project. "Runners, walkers, families, kids…people are already using it."
The Riverwalk promotes recreation and enhances New Bern's healthy, viable downtown. It is a quality of life feature that helps shape our community, increase our livability, and preserve property values. The Riverwalk also provides sound infrastructure for promoting health and fitness.
"We couldn't have done it without the help of the Sudan Temple," said Mr. Montanye. "They gifted to the City a 15 foot pedestrian easement along the riverfront as a reflection of their partnership and support of the project."
The idea for a Riverwalk in downtown New Bern started with Swiss Bear Downtown Development Corporation. About 30 years ago, construction began on a 1.5 mile stretch of Riverwalk from Queen Street to Eden Street. With the revitalization of New Bern in the 1980s and '90s, the idea for a coastal, recreational amenity grew. Last year, the City hosted a ribbon cutting ceremony on a new 1,100 foot stretch of Riverwalk behind Leander Morgan Park, southwest of Tryon Palace that continues to South Front Street. This section features a small beach area for launching kayaks, paddleboards and canoes, a small parking area for visitors, and two riverfront gazebos over the Trent River.
"Great cities are made from great cultural amenities, and New Bern's Riverwalk is a popular amenity with our residents and visitors," said Mark Stephens, City Manager. "Eventually, the Riverwalk will extend from downtown all the way to Lawson Creek Park, offering picturesque views of our rivers and a safe way to traverse our city. We're thankful our forebears had the vision to create the Riverwalk and we're proud to continue their steps forward."
Submitted by: Colleen Roberts, Public Information Officer, City of New Bern