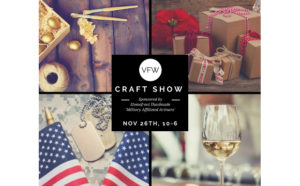 VFW Craft Show & Humane Society Adopt A Thon
Saturday, November 26th, 10 am – 6 pm
VFW Post 8986, 1316 Hibbs Rd. Newport, NC
Homefront Handmade has partnered with Newport VFW POST 8986 and the Carteret County Humane Society to present an all-around community affair on Small Business Saturday. This Wine'd Down from Black Friday Event is a great way to get out of the house and away from the hustle & bustle of Thanksgiving and Black Friday. The Craft & Vendor Expo will be featuring military affiliated artisans and consultants of various products. Come grab a drink, shop around, and relax! We will also serve coffee, and will have a hot chocolate bar for the kids. The Carteret County Humane Society will host their Adopt A Thon outside. They will have about ten dogs who are looking for a new home for Christmas. We will have so many great things in one place!
This event is not just a craft show; it is a fundraiser for VFW POST 8986. Recently, they were broken into. When Homefront Handmade heard this story, we knew we had to help. Who breaks into a VFW?! Not only did the thieves steal money, they caused a lot of costly damage. Admission to the craft show will be $1 or a donation of holiday items for the VFW Auxiliary Yard Sale to be held later in December. All proceeds will be used to help recover from the break in.
Everyone knows what the VFW is and who the Carteret County Humane Society is, but what is Homefront Handmade? The company was founded less than a year ago by USMC spouse, Leslie O'Bryant, right here in New Bern. Homefront Handmade, LLC supports military spouses, veterans, and other military family members to assist in the creation and marketing of handcrafted products. HomefrontHandmade.com is an online marketplace for military affiliated artisans to come together and sell their handcrafted products to the public. Members, called Double HH Members, receive benefits such as discounts on supplies & services relevant to creating their products, as well as marketing tips to stand out in an oversaturated handcrafted market.
O'Bryant knows first-hand the struggle of moving every few years and understands the need for an easily transferrable job; creating fabulous, handcrafted products is one of those jobs. Homefront Handmade was founded, not only as a place to buy and sell unique items, but as a community for military families who share a common interest to come together to support one another and share creative ideas. HomefrontHandmade.com will relaunch in December with a new and improved website just in time for holiday shopping!
Submitted by: Leslie O'Bryant, Homefront Handmade