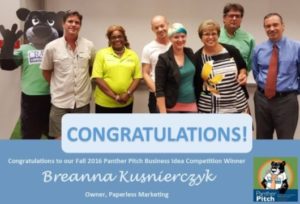 Craven Community College's (CCC) Small Business Center (SBC) held its Panther Pitch business idea competition on Thursday, September 15, 2016. Five entrepreneurs presented their ideas in five-minute pitches to judges in hopes to win the competition and $1,800 in business services from Blue Envelope Designs, Brink Strategy, Craven 100 Alliance, New Bern Area Chamber of Commerce, New Bern Web Design, Open Aperature Photography, Solid Rock Accounting, The Reactive Voice, and Ward & Smith, P.A.
Panther Pitch winner, Breanna Kusnierczyk, presented "Paperless Marketing" business idea. Paperless Marketing is a social media solutions marketing company.
Other Panther Pitch contestants:
Allison Patton presented her "Allison Patton Pet Photography" business idea. Patton's love for animals has motivated her to use her professional photography skills for man's best friend.
Doug Bacskay presented his "Mr. Doug's" business idea. Inspired by his grandparents' business in Ohio, Bacskay aspires to launch a family-style eatery featuring, among other treats, a foot-long hotdog.
Trinita Petifer-Hardy her "Charlene's Naturals" business idea. Utilizing natural ingredients, Petifer-Hardy offers affordable hair and skin care products to her clients.
Dee Tendell presented her "Tendell Tactical" business idea. Tendell will launch an indoor/outdoor shooting range with a focus on firearms education, consultation, and training for effective muscle memory response.
Competition Judges included Tharesa Lee, chair of New Bern Chamber of Commerce board; Conrad Jordan, owner of Bear City Fudge; Kelly Michaud, owner of Solid Rock Accounting; and Robert Millns, Sunbelt Business Intermediary.
"All participants in the Panther Pitch are real winners. The contestants win when they step up to refine and publicly share their business idea. The judges and sponsors win showing their selfless dedication and contributing time, experience, and resources. Our entire community wins by bringing people together to encourage each other and to build each other up in the pursuit of positive entrepreneurial goals, said Alex Frelier, director of the SBC.
Frelier added, "We are proud of all our contestants and we are particularly proud this time to recognize Breanna Kusnierczyk for achieving first place thanks to her inspiring enthusiasm and hard work."
CCC's SBC is part of the The North Carolina Small Business Center Network and provides free, community-based resource for training, counseling, referrals and information. The goals of CCC's SBC are to increase the success rate of start-ups and the number of viable small businesses in Eastern North Carolina.
For more information about the SBC, contact Frelier at 252-638-1088.
Founded in 1965, Craven Community College (CCC) is part of the North Carolina Community College System. With campuses in New Bern and Havelock-Cherry Point, Craven serves about 3,200 curriculum students and more than 10,000 continuing education students each year. The college offers a wide range of associate degree and certificate programs, as well as college transfer courses, career and occupational offerings, partnerships with four-year universities, specialized workforce training options, developmental studies and basic skills classes. Craven Early College High School programs are available on both campuses. CCC is also home to Public Radio East, one of the few community colleges nationally with this distinction. For more information about the college, visit CravenCC.edu.
Submitted by: Deborah Kania, Director of Marketing, Communications & Development Liaison