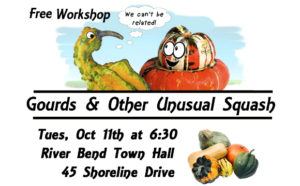 The River Bend Community Organic Garden and Education Center is pleased to offer a free workshop, Gourds and Other Unusual Squash. Led by Craven County Master Gardener Jane Snider and NSCU Cooperative Extension Director for Craven County Dr. Tom Glasgow, attendees will learn about growing and using gourds and different varieties of squash and pumpkins. Jane is a frequent and entertaining presenter to RBCOG audiences. We are honored to have Dr. Glasgow's vast knowledge and engaging style as he headlines our final workshop of 2016.
The workshop will be held on Tuesday, October 11th at 6:30 pm at River Bend Town Hall, 45 Shoreline Drive. This workshop is recognized for continuing education credit for master gardeners.
Following the session, squash and pumpkin themed refreshments will be served, providing samples and examples of mouth-watering ways to prepare these distinctive and flavorful vegetables.
Recent workshops have been filled. Reservations are recommended. Contact Dee Smith at 252-634-3192 to reserve a space.
Submitted by: Connie Casey, River Bend Community Organic Garden and Education Center