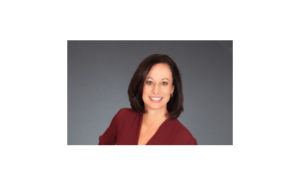 It was an ordinary day. Elizabeth Wood kissed her husband and four children goodbye, before heading out to her third Coastal Women's Forum (CWF) meeting. Little did she know a chance encounter would set her on a new path that would ultimately yield extraordinary results.
At the meeting, Elizabeth found herself engaged in conversation with a local attorney. The two women soon discovered they had a mutual interest. The attorney was looking for a paralegal, and Elizabeth, a paralegal, was in search of a job.
"Looking back," Elizabeth stated, "if I hadn't gone to CWF, I don't think I would have run into her. She wasn't advertising. It was through networking that I came upon that job."
For Elizabeth, working at a law firm specializing in immigration became more than a job. It became an inspiration, as well as a turning point in her life. "Working in immigration", Elizabeth recalled, "and seeing how happy people were when we brought their families together, or when they became citizens, I knew that was what I wanted to do. It was the kind of law I wanted to practice."
Deciding to attend law school was easy. Making it happen was a challenge. The closest law school was in Raleigh, and with a growing family, this was not an option. But Elizabeth's determination won out, and she was able to take her courses online.
It took four years of hard work, determination and a strong sense of purpose for Elizabeth to earn her degree and a California law license. The former paralegal is now Elizabeth A. Wood, Attorney-at-Law at The Carolina Law Group, specializing in immigration and naturalization. And early next year, she hopes to take the North Carolina Bar exam.
Elizabeth grew up in Florida, and moved to Pittsburgh, Pennsylvania, where she, finished high school, graduated from college, married and had four children. By 2006, Elizabeth's parents were living in New Bern. Tired of long harsh winters, and wanting to be closer to Elizabeth's parents, the Woods decided to make the move, to North Carolina.
It was Elizabeth's mother who encouraged her to join CWF. And the rest, as they say, is history. Or is it? Not only is Elizabeth committed to her career and family, she is an active CWF member who serves on the Board and has taken on the responsibility of Lunch Coordinator.
When not at work or volunteering for CWF, Elizabeth enjoys spending weekends with her family on their boat, and crafting jewelry. The latter is a pursuit she truly enjoys, but for which she has little time these days, However, Elizabeth still manages to create and donate pieces for charity raffles and auctions.
What does Elizabeth see when she looks around her at CWF meetings? "I see a lot of strong women sharing and helping each other out. They're trying to find ways to make their communities better, and doing it together." Elizabeth still appreciates the support she gets from other women going through similar challenges with careers and families. She knows she's not alone.
In the 10 years since Elizabeth joined CWF, she has observed a steady influx of new members bringing fresh perspectives, new expertise and a constant infusion of energy to the organization. Yet, CWF's goals of providing its members with encouragement and support, educational programs and networking opportunities have remained consistent.
"We must be doing something right to bring in so many new people," Elizabeth concluded. Based on her experience and that of many other members, CWF is doing everything right.
Upcoming CWF Events
October 4: Dinner Meeting at The Chelsea Restaurant, 5:30 PM
October 19, Lunch Meeting at New Bern Golf and Country Club, 11:30 AM
For more information, or to register for an event visit CoastalWomensForum.com.
Submitted by: Penny Zibula, Six Legs Will Travel