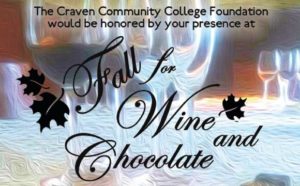 Tuesday, September 27, 2016
New Bern Golf and Country Club
6:00 p.m. Hors d'oeuvres
7:00 p.m. Chocolate & Wine Pairing
Presented by renowned Chocolatier Chef Sadruddin Abdullah
This event sponsored by Hearne's Fine Jewelry, Thornbury Brides, and Envee Spa.
Tickets for the event are $95.00 per person. Please R.S.V.P. by September 12.
A message from our Chef:
We are Dessert Specialists, your premier specialty dessert company. My name is Sadruddin Abdullah. My wife, Mahmuda, and I started Dessert Specialists because we want to share our amazing chocolates and pastry with you. It is our goal to create a unique and innovative dessert experience. It is our promise to exceed your expectations with every bite.
We put our extensive experience and the love we have of creating fine chocolates into everything we do. My experience includes ten years of teaching at the esteemed Johnson & Wales University, two National Bread and Pastry Championships and various appearances on The Food Network. When every step in the process is done with perfection, the cumulative result is a delight to behold and pure epicurean ecstasy.
For more information, visit Craven Community College Foundation's website or call 252-638-7200.
Submitted by: Janet Lamb