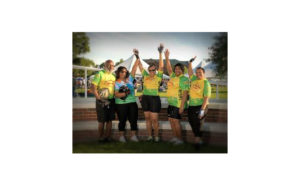 New Bern resident Dorothy Dove has several friends in New Bern that live with MS. She has the desire to help people she knows who live with MS and people she doesn't know who have MS. She makes a difference through being team captain for the Neuse Pamlico Sound Women's Coalition at the Bike MS: Historic New Bern ride.  Dorothy said, "It is a great feeling riding and helping others."
Dorothy explained her motivation to become increasingly involved over the years. Her first experience with MS was as a Rest Stop Captain. After seeing the riders and working with them, she decided that her group should have a cycling team as well.  The Coalition's largest rider turnout has been 10 cyclists, but the total including team volunteers has ranged from 20 to 25.
Raising awareness about MS in Dorothy's community is also important to her. She said, "It is very important especially within the African-American Communities, and we have done this through the churches and other community based organizations." Her team is always looking for more cyclists, as she said, "[more cyclists] would aid in increasing the number of folks who would be available to ride for the MS cause." She said, "Eventually the fundraising for the New Bern area would increase for finding a cure or in assisting those with medicine and other benefits."
In terms of raising money to end MS, Dorothy said, "We feel that we are helping the cause to find a cure." "Most of our members make the $1000 mark, and we always raise a minimum of $7000 with our top over $14,000," she said. As for fundraising tips she would offer to others, she said to contact churches, organizations, and network through Facebook. She said, "I have asked friends and they have asked friends, co-workers and church members but so many people are afraid of riding. People must first feel comfortable riding and be committed to raising money for a worthy cause."
Join Dorothy Dove this year at the Bike MS: Historic New Bern. It's not too late to register. Register at the convention center anytime from 3pm to 9pm.
Bike MS Events Through the National Multiple Sclerosis Society, Greater Carolinas Chapter
The Greater Carolinas Chapter hosts three Bike MS events per year in North and South Carolina: Historic New Bern, Tour to Tanglewood, and Breakaway to the Beach. Money raised through these 2-day events fund MS research, programs, services, and advocacy. It is also a weekend of fun and physical challenge where there is great music, food, and camaraderie.
In 2015, Bike MS nationally raised more than $83 million through 100 rides across the country and with more than 100,000 people cycling in one of our events. Your participation will drive MS research forward faster and deliver programs and services to those who face the challenges of MS every day. In 2016, we will raise $3.3 million to create a world free of MS – and we want you to be a part of it!
Early and ongoing treatment with an FDA-approved therapy can make a difference for people with multiple sclerosis. Learn about your options by talking to your health care professional and contacting the National MS Society at NationalMSSociety.org or 1-800-344-4867.
Submitted by: Sarah Merritt, Manager, Public Relations and Marketing, National Multiple Sclerosis Society