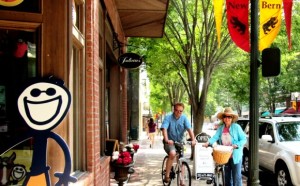 19th: Lunch and Learn: Meet the Martins, 12:00pm at the North Carolina History Center. Call 252-639-3500.
20th: Parking Lot Yard Sale benefiting the Children's Miracle Network, 8:00am – 11:00am at Walmart in Havelock.
20th: META-Mudder Neuse River Mud Run at 10:00am. For details visit metamudder.com.
20th: Composting and Soil Building: The Value of the Unseen, 10:00am – 12:00pm at Craven County Agricultural Building. Call 252-633-1477.
20th: Underground District and The Dick Richards, 8:00pm – 11:00pm at City Laundry. Call 252-876-7007.
21st: Sean MacMahon 90th Birthday Irish Music Session and Ceilidh, 2:00pm – 5:00pm at the Trent River Coffee Company. Call 252-514-2030.
21st: African American Heritage Tour, 2:00pm at Tryon Palace's Waystation. Call 252-639-3500.
Listen to our latest Podcast episode for details about this weekend's events:

There also all kinds of fun activities to include something to do for all ages!
What are you doing this weekend?
Tell us what you think sending us an email. Visit New Bern Now's Facebook page or sign up for the latest updates by submitting your email address in the right margin on New Bern Now's website.
Wendy Card