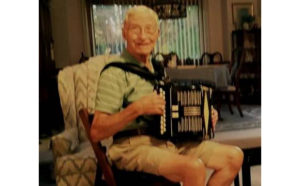 Trent River Coffee Company in New Bern
Sunday afternoon August 21, there will be a special event to celebrate the 90th birthday of a distinguished New Bernian Hibernian.  Local button-accordionist Sean MacMahon was born in Navan, County Meath, Ireland, in August 1926.  He moved to this country in 1948, working, living, and performing in New York and New Jersey.  Since retiring and moving to River Bend in New Bern, Sean has been a mainstay of Irish traditional music in eastern North Carolina.
To celebrate Sean MacMahon's 90th birthday, there will be a session of Irish traditional music at Trent River Coffee Company, Sunday afternoon August 21.  The music will get started around 2:00 pm, and continue until TRCC closes at 5:00. The repertoire includes Irish jigs, reels, hornpipes, and songs.  Audience members are welcome to sing along and sit in, or just sit back and enjoy the music.
Trent River Coffee Company is at 208 Craven Street in New Bern.
There is no admission charge, and this celebration of Sean MacMahon's birthday is open to everyone.  Coffee, tea, ice cream, Italian sodas, and pastry will be available for purchase.  Call 252-514-2030 for more information.
Submitted by: Simon Spalding