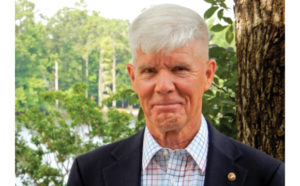 United Way of Coastal Carolina is excited to announce that Major General Tom Braaten, USMC, Ret, will be the 2016-17 United Way Leadership Giving Campaign Chair. General Braaten will challenge the community to join the Leadership Circle and will lead our 60th Anniversary campaign that kicks off on Tuesday, September 27, 2016. Thank you General Braaten for Living United!
A Message from General Tom Braaten:
We live in a beautiful community known for great prosperity, but there is a community many of us have never seen, It's the community where our coworkers, neighbors, and friends not only struggle to make ends meet but cannot meet their most basic human needs of putting food on the table, having a home to call their own, or taking care of basic medical concerns. It's our community including Carteret, Craven, Jones and Pamlico Counties where more than 41,000 residents, including children are living in poverty and an average of 16.5% of residents are uninsured. What's more, the economic environment has changed the face of poverty, placing many people in a position they never expected: needing a hand UP so they can get back on a path to self-sufficiency.
This is the community that we're all working to strengthen by supporting the United Way of Coastal Carolina.
Together, we are restoring hope with our actions and creating lasting, positive change in our community. Because of your support and commitment to Living United, United Way of Coastal Carolina can continue to provide hope, help, and a pathway to a better future to assist people in our local community with getting back on their feet and on a path to a brighter future.
Because I believe so much in the work that United Way of Coastal Carolina is doing, I decided to lead the Leadership Giving Campaign this year. And you can too: by Giving what you can, Advocating by championing our cause, and Volunteering to share your time and talent, we can improve more lives. Let's outdo ourselves for our neighbors in need and help a student graduate from high school and go to college, offer a single mother the job training needed to support her family and gain financial independence, or provide a senior with food and access to critical medication. Let's invest in change and help people help themselves by giving them access to the Building Blocks for self-sufficient life: Education, Income, and Health.
The United Way of Coastal Carolina had its beginnings in the Coastal Carolina area in 1957. What started as just a fundraising organization many years ago, has developed into an organization focused on measurable, long-lasting results focused on the local community's most compelling needs. Education, Income and Health are the three major areas of focus. Currently there are 18 funded programs serving individuals in Carteret, Craven, Jones and Pamlico Counties. Funds are raised locally to fund local programs. For more information visit UnitedWayCoastalNC.org.
Submitted by: Tate Johnson, Resource Development and Marketing Coordinator, United Way of Coastal Carolina, Inc.