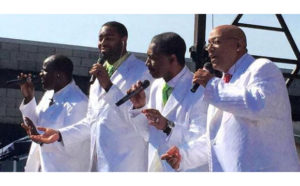 Popular Soul Tribute group returns to New Bern
August 13th, 2016 7:30pm – 9:30pm
Community of the Excellence is proud to present the Legacy Motown Revue at Orringer Auditorium August 13th at 7:30pm. The group will perform classics of soul, funk, and pop in a two hour show to benefit COE's Back to School Program this August.
Returning for their second year in New Bern, the Legacy Motown Revue pays homage to the music that molded multiple generations. Performing hits by the Drifters, the Jacksons, Earth Wind & Fire, the Temptations and more, this group promises a night of entertainment that transports the listener to one of the most influential periods of American musical history. The Legacy Motown Revue is comprised of singers Richard Carey Figueroa, Tristan LeDerris, Jonthan Phifer, and Robert C. Marion Jr., in addition to a six piece band that includes manager and pianist Stan Stigall.
This concert is presented by the Community of Excellence, a local 501(c)3 nonprofit dedicated to helping today's youth become self sustaining and an integral part of tomorrow society. COE offer opportunities for growth and development through education, vocational, and social enrichment programs, with a focus on preventing early drop outs. Tickets for the show are $20, and can be purchased at Bank of the Arts at 317 Middle St, or over the phone at 252-638-2577. Doors open at 6:30 pm.
For more information please contact: Jonathan Burger, Marketing and Gallery Director
Craven Arts Council & Gallery, Inc.
Submitted by: Jonathan Burger