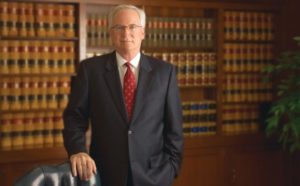 Dec Ward of the law firm of Alfred Decatur Ward, Jr., PLLC, in New Bern, NC, has been named the 2017 Family Law Lawyer of the Year in Eastern North Carolina by "Best Lawyers in America." Ward received the highest ratings this year from his peers in the Wilmington metro geographical area that includes New Bern, Beaufort, Morehead City, Harkers Island, Jacksonville, Calabash, Elizabethtown, Southport, Whiteville and Wilmington.
"I am honored to receive this prestigious recognition," stated Ward. "The fact that this award is determined by my peers leaves me humbled."
Ward has been practicing Family Law for over 40 years and is certified as a Family Financial Mediator by the North Carolina Dispute Resolution Commission. He has successfully mediated hundreds of Family Law cases for over 80 attorneys in the eastern North Carolina area. Ward has represented clients in every aspect of Family Law, including, but not limited to, child custody, child support, post-separation support, alimony and equitable distribution.
Ward was admitted to the North Carolina Bar in 1974 after graduating from Wake Forest University School of Law.  He initially practiced in multiple areas of the law involving extensive litigation before deciding to limit his practice to Family Law more than 25 years ago.
Best Lawyers is the oldest and most respected peer-review publication in the legal profession. A listing in Best Lawyers is widely regarded by both clients and legal professionals as a significant honor, conferred on a lawyer by his or her peers. For more than three decades, Best Lawyers lists have earned the respect of the profession, the media, and the public, as the most reliable, unbiased source of legal referrals anywhere.
For more information, please visit DecWardAttorney.com.
Submitted by: Amber McCracken, Executive Director, Current Communications