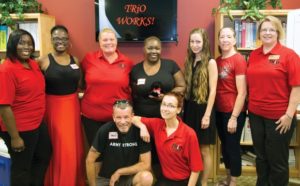 Craven Community College (CCC) announced that it received a five-year, $1.18 million federal TRIO grant to establish an Educational Opportunity Center (EOC) to annually assist, prepare and support 1,000 Craven County residents in gaining skills needed for pursuing higher education. The grant period is September 1, 2016 through August 31, 2021.
"The EOC grant is about helping people within our community to become college students by providing guidance on admissions, financial aid, financial literacy, career counseling and academic advising," said Kathleen Gallman, vice president for instruction at CCC. Gallman added, "We will provide assistance to anyone who qualifies for the program, however, we will also reach out to underserved populations such as homeless youth, persons with disabilities, persons with limited English proficiencies, foster care youth, and other disconnected persons."
EOC grant funding will allow CCC to hire one full-time EOC director, two full-time outreach specialists, and three part-time tutors.
CCC is one of four North Carolina higher education institutions that are first-time grant recipients. Overall, the U.S Department of Education awarded $48 million in grants to 143 colleges and organizations in 42 states in order to reach more than 196,000 adults.
The EOC grant is CCC's second TRIO grant. In 2015, CCC was awarded $1.1 million to continue its TRIO Student Support Services (SSS) program for another five years. The SSS program is one of the federal TRIO programs designed to identify and provide services for individuals from disadvantaged backgrounds.
For further information about the EOC grant and CCC's TRIO program, contact Jennifer Bumgarner, executive director of academic support at CCC, at (252) 514-6715.
Founded in 1965, Craven Community College (CCC) is part of the North Carolina Community College System. With campuses in New Bern and Havelock-Cherry Point, Craven serves about 3,200 curriculum students and more than 10,000 continuing education students each year. The college offers a wide range of associate degree and certificate programs, as well as college transfer courses, career and occupational offerings, partnerships with four-year universities, specialized workforce training options, developmental studies and basic skills classes. Craven Early College High School programs are available on both campuses. CCC is also home to Public Radio East, one of the few community colleges nationally with this distinction. For more information about the college, visit CravenCC.edu.
Submitted by: Deborah Kania, Director of Marketing, Communications & Development Liaison