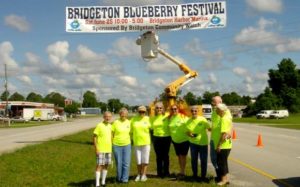 WooHoo! If the blueberry is going to be called a "superfood," then a festival revolving around them should be called a "super party." We survived our first Bridgeton BlueberryFest on June 25, 2016. The Bridgeton Community Watch had a vision of bringing back the celebration of that luscious little berry to the people of Bridgeton, Craven County, and eastern NC. Blueberries have always been an integral part of the town of Bridgeton, bringing in locals and visitors to pick their own! The Morris Farm, the Nelson Farm, and Southside Farm all supplied blueberries to the ravenous crowd that invaded our festival grounds at the Bridgeton Harbor Marina!
The 2016 Blueberry Festival featured an array of local crafters, vendors selling goods, and businesses from Craven County to help celebrate the luscious, tangy bite of the local blueberry! Planning went well to share blueberry baked goods from Bridgeton Christian Church and Bridgeton Community Watch; a kick-off breakfast of blueberry pancakes sponsored and served by the Bridgeton United Methodist Church; a blueberry baking competition (with winners Nancy Hawley with her Blueberry Lime Salsa, Dawn Heller and her Blueberry Apple Pie, and Marie Tingle's Blueberry Pie. All were selected by our local personalities of Jessica Winters and Matt Trent from WITN TV12, Sheriff Jerry Monette, and Craven County Commissioner Tom Mark); rides and activities for kids from Abrams Entertainment, Fantasy Faces by Robin, and Smokey the Bear from the US Forestry Service; and displays for the "kidults" with Corvettes from Chevrolet of New Bern, Twin Rivers Corvette Club, Classic Cars from around eastern NC, motorcycles from the Blue Knights. There were dogs for adoption from the Colonial Capital Humane Society, music entertainment from Merchants Road, great food from Flounders Seafood Shack, Sam's Funnel Cakes, and Little Caesar's Pizza, and lots and lots of blueberries for almost everyone! There was such a demand that Bridgeton Community Watch had to restock three times, Shannon Register from Morris Blueberry Farm called in reinforcement three times, Southside Farms from Chocowinity brought a truck load, and by the end of the day, everyone had sold out! (pant, pant) What more can you have at a festival on the river? How about the US Coast Guard from Station Hobucken with their response boat, supported by our local USCG Auxiliary 20-04? From our sister town across the river, graciously supported by the New Bern Police Department, was Officer McGruff, traipsing around the grounds of the Bridgeton Harbor Marina, giving hugs, waves, and high-fives while posing for pictures. Near the river, there was NBPD Officer Rebecca Hopper with her K-9 partner, Ringo, sharing their love, passion, and comradery with kids and adults. The day was filled with excitement, memories of festivals past, kids laughing and playing, and vendors making change! We are all excited about what 2017 holds in store for Bridgeton Community Watch and the Bridgeton Blueberry Fest!
If you want to participate in Blueberry Fest 2017 please contact the Bridgeton Community Watch.  If you want to give feedback on Blueberry Fest 2017 please, please contact the Bridgeton Community Watch – your feedback (the honest good, bad, and ugly) will make 2017 even better!  Looking forward to seeing you!  They have a Facebook page if Social Media is your favorite or send an email. .
Submitted by: Patti Mason on Behalf of Sherri LeFever
Check out some of the photos we took at the Festival. We wish we had more time as there so many booths and activities to cover.
Wendy Card