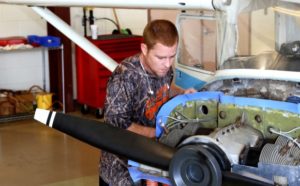 Three Craven Community College workforce training programs now qualify for Veterans Affairs education benefits (GI Bill)
Craven Community College (CCC) Workforce Development (WFD) has announced that three of its workforce development training programs qualify for Veterans Affairs (VA) education benefits under the Post 9/11 or Montgomery GI Bill. These non-college credit training certifications include barbering, Commercial Driver License (CDL), and Federal Aviation Administration Airframe & Powerplant (FAA A&P). The course tuition and monthly housing allowance are paid for by the GI Bill.
Typically, most veterans use GI Bill benefits to help pay tuition for traditional two-year or four-year college degrees. The approval of workforce training certifications under the GI Bill provides another education option for military veterans and their eligible dependents.
"Craven is among a few N.C. community colleges to have as many of its workforce training programs approved for the GI Bill," said Robin Matthews, dean of CCC Workforce Development. Matthews added, "These training programs are short-term education that can lead to long-term civilian careers for our transitioning or veteran military service members."
The duration of each WFD training program is as follows: barbering, one year; CDL, seven weeks; and FAA A&P, 16 weeks.
CCC WFD plans on seeking GI Bill approval for additional training programs in construction and trades in the future.
For questions related to CCC Workforce Development programs, contact Matthews at 252-672-7506.
For questions related to GI Bill, contact CCC's VA Coordinator Jeffrey Quinn at 252-638-7231.
To apply for VA benefits, military service members can visit the VA's website at Benefits.VA.gov/gibill/apply.asp.
Founded in 1965, Craven Community College is part of the North Carolina Community College System. With campuses in New Bern and Havelock-Cherry Point, Craven serves about 3,200 curriculum students and more than 10,000 continuing education students each year. The college offers a wide range of associate degree and certificate programs, as well as college transfer courses, career and occupational offerings, partnerships with four-year universities, specialized workforce training options, developmental studies and basic skills classes. Craven Early College High School programs are available on both campuses. Craven is also home to Public Radio East, one of the few community colleges nationally with this distinction. For more information about the college, visit CravenCC.edu.
Submitted by: Deborah Kania, Director of Marketing, Communications & Development Liaison, Craven Community College