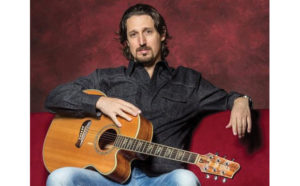 Country music fans, get ready, you're in for a treat!
We caught up with Nashville Recording Artist Lee Gibson to hear what he had to say about his upcoming Concert. Listen to our interview with Lee that's also airing on New Bern's News Talk Radio Station WNOS 107.5FM and 1450AM:

Nashville recording artist Lee Gibson returns to Trent River Coffee Company for an intimate one-night engagement on July 28th, at 7:30 p.m. His last performance at Trent River Coffee Company was met with glowing reviews from those who attended. "The shows here are very 'up close & personal' for concert-goers and artist alike", Gibson commented in an interview. "I like to talk to the patrons before and after the show, as well as giving them the feeling they are part of my show." Lee will be performing selections from his first two albums and music from two other albums, which are currently in the production process.
Seating is limited at Trent River Coffee Co so reservations are suggested. "Come a little early as seating is first come, first serve, and spend some time with me," Gibson said smiling.
Gibson is a true Nashville-born artist who has been coming up through the ranks of other artists over the years. He has opened shows for artists ranging from the late, great George Jones to Clay Walker to T. Graham Brown to Randy Houser & many more. Gibson has written songs with select hit Nashville songwriters over the years, developing his songwriting style. The past three years he's toured with Ronnie McDowell each fall on the American Legacy Tour, touring several Southern & Midwestern states. This year Lee has been on his own performing shows from as far north as Michigan to southern Georgia and beyond.
Lee is traveling straight through from Nashville to New Bern so like his song Long Slow Night says "I'm up at 6am. On the road by 7:30" get your seat reserved early by calling Trent River Coffee Company at 252-514-2030 for only $10 each. The owner has agreed to take phone-in reservations up until the day of the show. If you can't make this show on July 28th you can still listen and get your own copies of Lee Gibson's albums at LeeGibsonMusic.com.
Submitted by: Lee Gibson