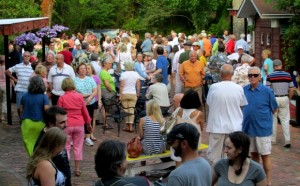 Community Artist Will is once again pleased to sponsor another ARTcrawl, featuring several local artists who will be demonstrating their talents around downtown New Bern this Friday night.
Kicking things off at the Greater Good Gallery on Craven Street, Norm Robins will be demonstrating pastels in front of the gallery while Sydney Gilgo will be showcasing her dreamweavers. Inside, Lisa Bisbee Lentz will be inviting ARTcrawlers to paint with her on collaborative canvases. Carol Jones will be there as well with her paintings. Photographer Jon Derby will be documenting activities all over town with his camera.
Lee Hood, Brush Strokes Artist, will be demonstrating painting and caricatures in his studio off Middle Street. The entrance is between Sweet Peas & Cow Cafe; take a left at the top of the stairs.
Around the corner at the Brown Pelican, take in acoustic hits from the 70s with local musicians Dan Phillips and Alan Gleeson.
Next door, enjoy the air conditioned comforts of the CAW Center for the Arts, featuring several local artists as well as working studios. Sandy Bruno will be hosting in hers, which also features the work of Nada Behr. Nada also has a show in the Bank of the Art's director's gallery, so be sure to visit both!
Besides painting and photography, the Center has a wonderful collection of hand crafted jewelry to enjoy. Behind the center, some of those jewelers may be set up demonstrating, along with henna artist Mehak Minhas, crafter Lauren Eckman, photographer and painter Sheri Leesburg, and more!
For more info, contact CAW at communityartistwill@gmail.com or call the Center for the Arts at 252-571-8566.
Submitted by: Community Artist Will