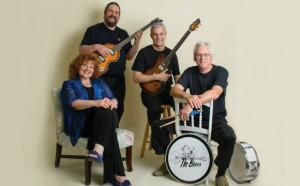 THE BEARS, New Bern's favorite oldies band, perform music of the Fab Four from Liverpool, at The City Laundry in New Bern, Friday evening – July 8.  THE BEARS will perform a set of their favorites from the 50's, 60's, and 70's – then come back for a second set of mostly-Beatles material.
Who are THE BEARS?
– Steve Latimer is "Baby Bear". Steve sings and plays guitar.
– Janet Montero is "Mama Bear": she sings and plays bass.
– Pat Engeman, "Yogi Bear" is the drummer, as well as a singer.
– Simon Spalding is "California Bear", on bass, fiddle, and guitar.
The show is at The City Laundry, 901 Pollock Street in New Bern.  The music begins around 8:00 p.m., just as the New Bern ArtWalk/ArtCrawl is winding down.  The performance will continue until 11:00.  Tickets are $10, available at the venue, Bank of the Arts, or at the door.  Call 252-675-1889 or email for more information.
To learn more about THE BEARS, check out TheBears.Band, or contact Pat Engeman at 678-205-7309.
THE BEARS are one of eastern North Carolina's most entertaining bands – don't miss them playing the music of The Beatles!
Submitted by: Simon Spalding, THE BEARS