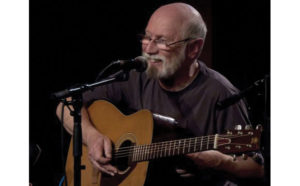 Alan Reid and Bob Zentz will perform in New Bern on Tuesday, July 26.  Performing on voice and a variety of instruments, Alan and Bob will present Scottish and maritime music.
Alan Reid is from Scotland, formerly of the renowned Battlefield Band.  Alan plays accordion, guitar, and piano.  Bob Zentz is a multi-instrumentalist from tidewater Virginia, and specializes in maritime music.  Both performers have written widely-performed-and-recorded songs in their respective genres.
Alan and Bob will perform at Trent River Coffee Company, 208 Craven St., New Bern, on Tuesday, July 26.  Tickets are $15, available at the door.  The doors open at 6:00 pm, and the show starts at 7:00.  CDs will be available for purchase at the concert.  For reservations or information, call 252-514-2030.
Additional information on Alan and Bob:
–  a RARE chance to see two national treasures together for the first time!
–  Alan Reid, (full bio below):  a vital member of Scotland's cherished Battlefield Band from its inception to 2010;  commissioned by the Dumfries and Galloway Arts Festival to compose and script a musical drama based on the life of Scots-born mariner and American Revolutionary hero John Paul Jones.
–  Bob Zentz (full bio at BobZentz.com/bio.htm ): the "Tidewater Troubadour" and an international representative of the American folk tradition for more than five decades, a "folksinger's folksinger" whose works have been covered by hundreds of musicians, whose most recent program is "'Vital Mental Medicine:'  Music and the Shackleton Expedition, 1914-1916."
Alan Reid bio, from ReidvanSante.com/biography.htm
Alan was a vital member of Battlefield Band from its inception in 1969 till his departure in 2010.
In that time he toured all over the world and made almost 30 recordings with the band, working with such artists as Garrison Keillor, Van Morrison and Mike Oldfield.
They won awards in Germany, Britain and the U.S. and throughout Alan was at the heart of the band, his keyboards underpinning the bagpipes and the fiddle. In being the first to use keyboards as an integral part of a traditional folk band Alan's contribution to the band's story has ensured it's stature in Scottish culture as well as its influence on many of today's Celtic musicians.
Alan's singing has long been respected by his peers, illustrated when he was invited to participate in the Linn Recordings series on the complete works of Robert Burns.
Moreover his song writing has grown in stature ever since the 1980s when his songs first appeared in the band repertoire, lyrical songs steeped in history , strong in storytelling and rich in  melody.
His first solo album 'The Sunlit Eye' featuring new songs and tunes was released in 1998 and was followed up with a song and tune book 'Martyrs, Rogues and Worthies' in 2001.  Later that decade he recorded two albums "Under the Blue" and "The Rise and Fall o' Charlie" both of which showcase many of his works.
2012 has seen the release of the duo's album on the life of Scots born mariner John Paul Jones, a long term project for which Alan composed the music.
Commissioned by Dumfries and Galloway Arts Festival and the duo performed a musical drama based on the story with script written by Alan.  Alan plays guitar, accordion, and piano.
Submitted by: Simon Spalding