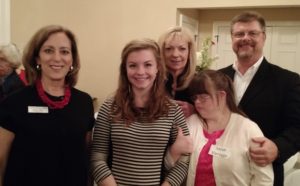 The New Bern Historical Society honored many of their volunteers at their recent annual awards banquet and silent auction.
Held at the New Bern Golf and Country Club, members met to share a delicious meal and recognize some of the many hard working volunteers. Executive Director Mickey Miller presented the Newcomer's Award to Karen Whitmore and the Ambassadorship Award to the New Bern Sun Journal's Charlie Hall and Bill Hand and New Bern Civic Theatre's Angelina Doyle, three outstanding members of the community who helped with many of our efforts.
The Education Award went to Curator, Jim Hodges, and the Executive Director's Award to the Director's Assistant, Pat Traynor.
President Nelson McDaniel presented the Extended Service Award to Sue Baldwin, the Battlefield Award to Pat Hart, the Lifetime Service Award to Karen Norman, and the President's Award to Jon Miller. The recipient of the Marks Scholarship, Caroline Vieregge was presented by Mary Parrish.
The mission of the New Bern Historical Society is to celebrate and promote New Bern and its heritage through events and education.  It takes many volunteers many hours to carry out the mission.  From work on the Battlefield, to hosting events like Ghostwalk, Civil War Adventure Day, and Lunch and Learn lectures, there is much to be done. And it is all accomplished with the help of the award recipients and hundreds of other committed and creative volunteers.
For more information on the New Bern Historical Society visit the office at the Attmore-Oliver House at 511 Broad Street, New Bern, or call 252-638-8558, or visit NewBernHistorical.org or Facebook.com/newbernhistorical.
Submitted by: Kathy Morrison, New Bern Historical Society