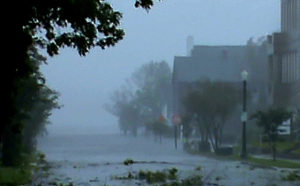 June 1st marks the start of hurricane season in the Atlantic and New Bern Fire Rescue is encouraging residents to get prepared in case of a storm. Tropical storms and hurricanes can have a significant impact on our area even if they do not make landfall here.
One of the first things you should do is identify your evacuation route. Develop an emergency plan for your family and decide how you will get out if an evacuation order is given, and where you will go. Identify an out-of-town contact whom your family can call to let them know you're safe. It's also a good idea to keep current photos of your family and pets on your cell phone, for identification purposes in case you get separated from each other.
The next step is to assemble a disaster survival kit. Consider selecting a closet in your home where you can store these supplies. The Federal Emergency Management Agency (FEMA) website, Ready.gov, has a comprehensive list of items to help families prepare for hurricane season:
– Water – one gallon water per person per day for at least three days
– Food – at least at three day supply of non-perishable food & a can opener & paper plates, plastic utensils, cups, & paper towels, as well as food for your pet
– Battery-powered radio and a NOAA Weather Radio & extra batteries for both
– Flashlights & extra batteries
– First aid kit
– Prescription medications & glasses
– Children's needs: diapers, infant formula, baby bottles, blankets, medications
– Fire extinguisher
– Cell phone & any other computer accessories with their chargers, inverters or a solar charger
– Local maps
– Trash bags, sanitary wipes, basic tools
– Cash
Another FEMA recommendation for disaster preparation is subscribing to an emergency alert system. The City of New Bern uses the CodeRED system, which alerts subscribers to emergencies in the community through text messages and phone calls. It's free for residents and you can sign up on the city website or download the CodeRED app. On the City's website, go to Departments, then Fire Rescue Department, and then click on Web Links under the Misc tab. You can also follow the City of New Bern on Facebook (CityofNB) and Twitter (@CityofNewBern) for emergency alerts, updates and information.
"The key to safety and survival is preparedness. It is our best protection and defense against disaster," said Fire Chief Bobby Boyd. "The hope is we won't have to use our disaster survival kits, but planning ahead will help us recover more quickly if a storm impacts New Bern."
Submitted by: Colleen Roberts, Public Information Officer and Brand Manager, City of New Bern