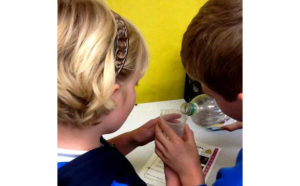 Duke Energy and Craven Partners In Education announced a $16,000 investment from the Duke Energy Foundation. The funds will be used to implement the Pitsco Education Program, Beginning Science is Elementary, STEM Lab at Vanceboro Farm Life Elementary, located in Vanceboro, North Carolina.
Darlene Brown, executive director of Partners In Education, explains, "This program, to begin in the 2016-17 school year, introduces a student-driven STEM curriculum that emphasizes inquiry-based learning and career content with hands-on activities. Students will learn about weather, energy, ecosystems, matter, and motion and force. Students have the opportunity to apply what they are learning from both a regional and global perspective through exposure to a 21st century curriculum which establishes a foundation that will foster the skill sets for job readiness."
"By giving students the opportunity to connect what they're learning through STEM labs to the real world, we hope to help foster a lifelong passion for learning," said Millie Chalk, district manager of Government and Community Relations at Duke Energy. "We're proud to be a lead supporter of the Beginning Science is Elementary project to make this hands-on educational experience available to students at Vanceboro Farm Life Elementary."
This is the second grant for which PIE has received funding for STEM Labs from Duke Energy Foundation for Craven County Schools. The first grant was in 2014 for the lab at James W. Smith Elementary.
The Duke Energy Foundation provides philanthropic support to address the needs vital to the health of its communities. Annually, the Foundation funds more than $25 million in charitable grants, with a focus on education, environment, economic and workforce development, and community impact. Duke Energy has long been committed to supporting the communities where its customers and employees live and work, and will continue to build on this legacy. For more information, visit www.duke-energy.com/foundation.
Partners In Education is a 501(c)3 nonprofit, Local Education Foundation for Craven County Schools. The mission of Craven County Partners In Education is to support and advance educational experiences within Craven County Schools through collaborative community involvement.
Since 1989, PIE has been changing the lives of students and families in our community by providing our educators with financial resources that enhance and reward innovative approaches to educational excellence. For more information about Partners In Education, visit CravenPartners.com.
Submitted by: Darlene Brown, Executive Director, Partners In Education