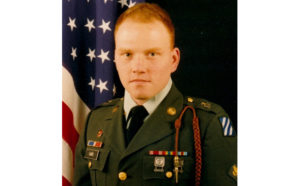 We've teamed up with LifePosts.com to give you a chance to take part in memorializing your loved one(s) who fought for our Country for a Memorial Day Tribute. Although they're no longer with us, this is an opportunity to let their memories live on through this storytelling project.
If you're not comfortable writing a short story, you can submit a quote or a photo with a short sentence about your loved one.
Here's my tribute to my brother who died on June 2, 1988. Warren R. Card, Sergeant, US Army:
Warren was three years older than me and although he was my protector, he also enjoyed every opportunity to get a rise out of me. Some of my fondest and earliest recollections of my brother were when we were camping. We spent most of our days walking up and down the creek exploring and fishing for trout to bring back for lunch or dinner. I would get so frustrated because he always caught the biggest one.
One day, I remember becoming frantic looking for him. He would always move to the fishing pool ahead of me, but I had walked past two or three pools and no Warren! I was alone in the woods and began to panic. We had seen black bears raid trash cans and the vision of encountering a bear in the woods was stuck in my head. Unknown to me, Warren was hiding behind a boulder and then he jumped out and scared the living daylights out of me.
We sure had some good laughs reminiscing as we got older and I cherish all the memories that we shared.
Warren died while serving in the Army in Kitzingen, Germany. Although it was devastating to lose my brother who was only 24 years old, my memories of him will live in me for the rest of my life. I truly believe everything happens for a reason. I know that the tragedy brought my family closer. We always tell each other that we love you. I suppose it was a wake-up call for our family and I realized that we never know when we may lose a loved one.
Since then, I've realized it's so important not hold on to grudges, enjoy each other while we can, and be kind to others as we don't know what they are going through.
To honor your loved one, you can submit your Memorial Day Tribute by clicking here. It's simple and free.
Tell us what you think sending us an email. Visit New Bern Now's Facebook page or sign up for the latest updates by submitting your email address in the right margin on New Bern Now's website.
Wendy Card