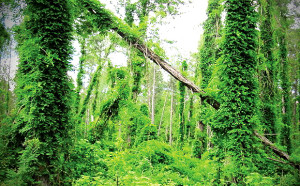 I have to admit, I used to be afraid of bears, especially when I was sitting around the campfire reading "bear attack" stories with my sister in the middle of the Croatan National Forest (It wasn't my idea).
Come turkey season, this was an annual expedition for my sister and I until a few years ago when she became a grandmother and priorities changes.
My 2nd eldest sister, I'll call her Darlene, came to New Bern from Grand Island, NY, for turkey hunting season and we pitched a tent in The Croatan. I probably shouldn't even call myself a turkey hunter because I've been at it since Darlene introduced me to turkey hunting in 2002 and I have yet to bag a turkey. I shot at one once and it ran away! I've chalked it up to the fact that they're smarter than me. I'm not a big hunter, I just love spending time in the woods and getting back to nature.
You may ask, what does this have to do with the black bear, New Bern's Mascot? Well, we grew up camping in Allegany State Park in the Southern Tier of NY State. There, Yogi and Boo Boo are alive and well. They've been conditioned by humans to raid the dumpsters and even flop out in your campsite waiting for leftovers. It's not rare to see a black bear as they aren't afraid of you because people have fed them since the 1950s. They aren't hunted, as they are in New Bern so they have no fear of humans.
Things are very different here. In 2006, we pitched a tent in the woods in the Brices Creek Wildlife Management Area and woke up next to a very large pile of bear scat. When I saw it, I was relieved as I realized that the Eastern Carolina Black Bear is not going to bother us. The poor bear is more afraid of us than we are of them.
Are you wondering where I'm going with this? Well, I frequently visit the Croatan and the only people I see are hunters, fishermen, or a lone jogger. I don't see families or people hiking on the designated trails and wonder if there's something that I don't know about this great forest that locals residents do. Which makes me think, people, (besides hunters packing weapons) are afraid of something that I don't know about? If so, please enlighten me because I don't want that "something" coming after me.
If that's not the reason, maybe people haven't thought about venturing into this beautiful forest that I consider the hidden jewel of Eastern NC. The Croatan has so many different terrains. From overgrown thickets to well maintained walking paths, they're so many options. They're some great places to take kids fishing or bird watching and much more!
If it's not your cup of tea, that's understandable. I suppose I'm concerned that the "computer age" may have overpowered the younger generation and people are missing out on the opportunity to observe wildlife and exotic plants that you can only find in the Croatan.
When you're looking for something to do in your spare time, apply insect repellent (I recommend "No Bite Me" that you can get at Mitchell Hardware), bring your camera, and venture out into this great forest. You may be very surprised how the sounds and sights of the forest will consume your thoughts instead of the stressors that affect your everyday life.
If you're afraid that the Black Bear or other animals will bother you, don't be. I've spent over 300 days (cumulative) in the Croatan since 2005 and the only thing that attacked me was ticks (that was until I used "No Bite Me"). Disclosure: Mitchell Hardware has not paid me for this endorsement. I've tried numerous things to include the military grade DEET and "No Bite Me" is the only thing that repels ticks and the ingredients are all natural. If it repels ticks, it repels pretty much any other insect in Eastern NC!
Make sure that you bring a compass and/or a GPS with you (or tell someone where you will be hiking). Park on the same side of the road where you're going in just in case you get lost and the Ranger is looking for you.
You're bound to enjoy the sounds and sights of nature and forget about anything that's nagging at you.
Since we're celebrating our 7th year Anniversary we want to share one of our first posts with you. We hope that you enjoyed it!
Please let me know if you have any questions. Who knows, we may even take a field trip with you for a short "Walk in the Woods"!
Tell us what you think sending us an email. Visit New Bern Now's Facebook page or sign up for the latest updates by submitting your email address in the right margin on New Bern Now's website.
Wendy Card