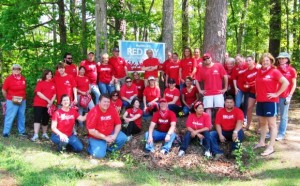 Keller Williams New Bern associates will "Give Where They Live" as part of RED Day, Keller Williams' annual day of service on Thursday, May 12, dedicated to renewing, energizing and donating to local communities.
As part of the RED Day effort, Keller Williams New Bern will spend the day at Stroke of Faith Farms, a Home & School for Children in Crisis in Eastern North Carolina . The mission of Stroke of Faith Farms is to help children and their families in crisis, to give each child that comes through their doors a loving home and safe environment where they can learn and grow, both spiritually and mentally and to give them a future and a hope.
"RED Day is built on the belief that people can and should come together to achieve extraordinary things to help others," said Susan Venters, Team Leader, Keller Williams New Bern. "This year, we are helping provide an environment where children can feel safe. We appreciate that their families are part of the process, too."
"RED Day just happens to be a one-day expression of the constant state of the Keller Williams culture. We see a need and rally our associates and vendors to make it happen!" said Susan Braaten, Technology Coordinator at Keller Williams New Bern.
"We are grateful that so many vendors we do business with are joining in our effort at Stroke of Faith Farms. Coastal Craftsmen LLC, HomePro General Contractors, CarolinaYardPro, Sherwin Williams Paints, Romero's Licensed Electrical Company, and Gail West of 2-10 Home Warranty are providing support for us on RED Day," said Kathy Richey, KWCares chairman for 2016.
Since the first RED Day in 2009, Keller Williams associates have given hundreds of thousands of hours of community service through activities ranging from food and blood drives to rebuilding homes and schools for community members in need. For more information about RED Day, visit KW.com/KW/RedDay.
The Keller Williams Realty New Bern Market Center, located at 1320 McCarthy Blvd, New Bern, NC is a full service real estate firm with more than 90 sales associates.
Submitted by: Susan Braaten, Tech Coordinator and Trainer, Keller Williams Realty New Bern