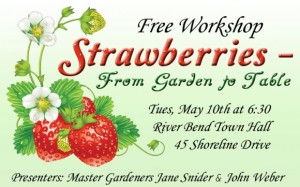 The River Bend Community Organic Garden and Education Center is pleased to offer a free workshop, Strawberries – From Garden to Table. Led by Craven County Master Gardener Jane Snider and Pitt County Master Gardener John Weber, the audience will be transported from garden to kitchen as they discuss selection, growing, harvesting, preparing and preserving the sweet, juicy spring fruit. Learn about the types of strawberries that grow well in this area, how to plant and how to grow. Gather information and tips on freezing, drying, baking and making jam from fresh, sun-sweetened berries.
The workshop will be held on Tuesday, May 10th at 6:30 pm at River Bend Town Hall, 45 Shoreline Drive. This workshop is recognized for continuing education credit for master gardeners.
Following the session, strawberry themed refreshments will be served, providing samples and examples of delicious, healthy food.
Recent workshops have been filled. Reservations are recommended. Contact Dee Smith at 252-634-3192 to reserve a space.
Submitted by: Constance Casey, River Bend Community Organic Garden and Education Center