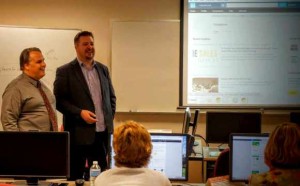 We caught up with Rebecca Morrer, Director of the Small Business Center at Craven Community College to find out more. Listen to our interview here:

The Entrepreneur Center of Craven County (TEC3) is hosting speaker, author, trainer and success coach, Martin Brossman at their upcoming April 26, 2016 Entrepreneur Series event.  Martin is a leading authority on social media and online marketing and is a dynamic trainer known for his insight and humor.  He will be presenting social media tips to help small businesses and entrepreneurs boost their business now.
Anyone with a small business, a business idea, or interest in entrepreneurship is welcome to attend. To register, go to TECCC.org.
The event will be:
Tuesday, April 26, 2016
5:30 p.m. to 7:00 p.m.
Craven Community College Student Center
Naumann Community Room
800 College Court, New Bern
Complimentary appetizers and beverages will be provided.
Sponsors for the April event are Craven Community College, Wells Fargo, R. A. Jeffreys, and Sweet Pea's Cafe.
The Entrepreneur Center of Craven County – TEC3 – is an ongoing collaboration between Craven County, the City of New Bern, Swiss Bear Downtown Development Corporation, the Craven 100 Alliance, Craven Community College, and the Small Business Center to create, encourage and facilitate an entrepreneurial culture by assisting early-stage and expanding companies to grow their businesses through information, education, and networking resources. TEC3 is currently in the process of securing funding for an entrepreneurial development space, The Cube, at 509 Broad Street.
Submitted by: Heather Noto, Brink Strategy