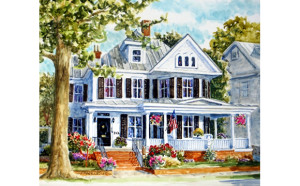 Friday, April 8 and Saturday, April 9, 2016
10 a.m. – 4 p.m.
There will be a lot to see on this year's Spring Historic Homes and Gardens Tour. On April 8th and 9th homeowners invite you into some of the most beautiful and interesting historic homes and gardens in New Bern. Get a behind the scenes look at homes that have much to tell of the history of this town, founded in 1710. This year patrons will tour homes in two historic neighborhoods: Downtown and Ghent.  Nearly half of the homes have never appeared on the Tour in its 26 year history. The others have not been seen in at least 5 years. So whether you are a veteran or a newcomer, prepare to enjoy wonderful spring days in New Bern!
In addition to beautiful historic homes and gardens, his year two museums will open their doors to Tour patrons.  The New Bern Firemen's Museum will be open in its new home in the old firehouse on Broad Street. The New Bern Academy which features a Civil War exhibit, "Face to Face: Civil War Sketches and Stories" and an exhibit on New Bern architecture will also welcome Tour patrons.  As is tradition, many downtown houses of worship will be open for tours. All of which is included in the Tour ticket.
Tryon Palace gardens, which should be in full bloom, will be open to the public. Tryon Palace's Annual Heritage Plant Sale will also be held on the Palace grounds during the Tour. That weekend, Spring Homes Tour ticket holders will have the opportunity to purchase discounted admission passes to Tryon Palace/NC History Center.
Be sure to grab a homemade bagged lunch to go or enjoy it in a quaint porch setting at the Blades' Veranda Cafe. This year Karen Miller of the new Sweet Pea Cafe downtown be our "Chef in Residence", adding her special creation to our traditional offerings. Bagged lunches are $8 and include a sandwich, a cookie and beverage. Coffee and cookies will also be available for those not yet ready for lunch.
Tour tickets are $18 in advance, $22 day of the tour and $15 for active duty military and dependents with ID.   All ticket prices include North Carolina sales tax. If ordering an active duty military or dependent ticket you must pick up your ticket at the Historical Society office, 511 Broad St. Tickets go on sale March 2 and are good for both tour days, 10:00 am to 4:00 pm.
Tickets are available by phone at 252-638-8558, online credit card at NewBernHistorical.org, or at the following outlets:  New Bern Historical Society at 511 Broad St., New Bern Preservation Foundation at 510-B Pollock St., Bank of the Arts at 317 Middle St., Harris Teeter at 2019 S. Glenburnie Rd., Carolina Creations at 317 Pollock St., Mitchell Hardware at 215 Craven St., Ann Lynn's at 4146 Dr. MLK Blvd, The Village Butcher Market & Café at 3515 Trent Rd.,  ASAP Photo at 3701 Charles Boulevard #100, Greenville; and Harris Teeter in Morehead City.
The Spring Historic Homes & Gardens Tour is a collaborative event presented by the New Bern Historical Society and the New Bern Preservation Foundation and is a major fundraising event for these non-profit organizations.
Submitted by: Kathy Morrison, New Bern Historical Society