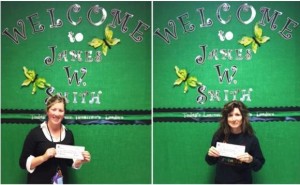 Partners In Education recently awarded Spring Cycle PIE Grants to Diane Bondurant and Brooke Oleneack at James W. Smith Elementary.
The grant, "Camping with Critters," for $1,491.50 for Ms. Bondurant will provide each K-2 classroom with a set of butterfly larvae in the spring.  Students will care for the larvae and wait for the metamorphosis to begin as they read informational texts rich in living science vocabulary.
Brooke Oleneack, received $1,487.19 for, "Wobbly While Your Work." This grant will provide alternative seats during math and reading instruction in Exceptional Children classrooms, as well as, General Education Classrooms that will allow for students to move and learn.  Studies show that movement is an effective strategy for strengthening learning, improving memory, and helping to motivate students.
For more information on how you can contribute to the PIE Grant program, contact Darlene Brown at 252-514-6321.
Submitted by: Darlene Brown, Executive Director, Partners in Education