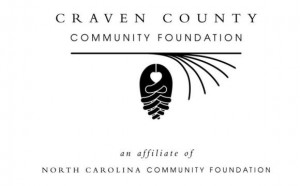 The board of advisors of the Craven County Community Foundation is currently accepting grant requests for projects funded from its community fund and its two component funds, the Richard Chapman Cleve Fund and the Nelson Family Memorial Endowment Fund, according to Alice Tolson, board president.
Applications are available beginning March 11. Visit nccommunityfoundation.org for information about applying. The deadline for submitting applications is noon April 12.
Funds are available for nonprofit organizations that serve general charitable needs in the areas of arts and humanities, education, the environment, health, human services, public and societal benefit and youth development in Craven County. Grants typically range from $500 to $10,000.
About the Craven County Community Foundation
In 1991, a group of committed Craven County citizens came together to establish the Craven County Community Foundation. Since then, the Foundation has established 28 charitable endowed funds for Craven County nonprofit programs and built a local philanthropic asset base of $12.9 million. Since its inception, the Craven County Community Foundation has made more than $2 million in grants to local nonprofits.
The Craven County Community Foundation is an affiliate of the North Carolina Community Foundation. The community fund was established to help support local charitable needs through annual grants. In addition to President Tolson, board members are: Tyler Harris (vice-president), Peter Moeller (secretary), James C. Briley, Jr., (treasurer), A. Rex Willis (immediate past president), Bill Austin, Maria A. Cho, James B Congleton, III, Martha Cook, James T. Davis, III, Vernon L. DeBolt, Dorothy Dove, Marc Finlayson, John Haroldson, John King, Jr., John R. Kirkland, Lee Knott, Ken McCotter, Chuck Meekins, Gregory T. Peacock, Dan Pritchett, Dan Roberts, Kevin M. Roberts, Anthony G. Salem, Jonathan Segal, Linda J. Staunch, Brian Z. Taylor, Scott Thomas, Susan Ward and Brenda K. Wilson.
For further information, contact NCCF Regional Associate Kim Ball at 252-288-5706 or visit the NCCF website at nccommunityfoundation.org.
About the North Carolina Community Foundation
The NCCF is the single statewide community foundation serving North Carolina and has made $101 million in grants since its inception in 1988. With more than $237 million in assets, NCCF sustains 1,200 endowments established to provide long-term support of a broad range of community needs, nonprofit organizations, institutions and scholarships. The NCCF partners with 60 affiliate foundations to provide local resource allocation and community assistance in 67 counties across the state. An important component of NCCF's mission is to ensure that rural philanthropy has a voice at local, regional and national levels.
For more information, visit nccommunityfoundation.org, like us on Facebook and follow us on Twitter @NCCF.
Submitted by: Kim Ball, NCCF Regional Associate, 252-288-5706