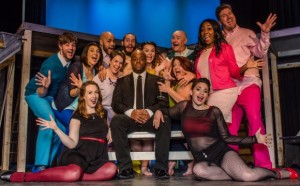 The phone rings, door chimes, in comes…Company! RiverTowne Players is proud to present Stephen Sondheim's Tony Award winning and ground breaking musical comedy Company. Sondheim's breathtaking hit will be performed April 15, 16, 22, 23, 29, 30 at 8pm and April 17, 24 at 3pm at the Historic Masonic Theatre.
The incredibly talented local cast includes Bryan Jones as Bobby, along with a crazy group of couples and love interests played by Krissy Boccia, Jasper Riggs, Alex Winn, Jenn Wiggs, Kip Ward, Malinda Clark, Bryce Todd, Morgann Tucker, Grazie Boccia, Wilson White, Meghan Lucas, Sally-mae Foldvary, and Meredith McKee.
Company is directed by Jordan Amburn with musical direction by Brandon Banks. Producer Sherry Thompson works alongside the brilliant production team including Jeff Padgett, Terry Daniels, Kay Eynon, and Ethan Goecke.
Energetic, electric, hilarious, and breathtaking.
From musical theatre's most renowned composer, Company is largely regarded as a trailblazer of the comedy, modern-musical genre and the winner of 7 Tony Awards including Best Musical, Best Score, Best Lyrics and Best Book. This sophisticated, and honest look at modern relationships is full of truths that will reverberate in the hearts of all those who witness it, as well as tie them in fits of laughter, while this incredible score soars throughout the theater. You don't want to miss out on this experience, so come and join us. Company is always welcome!
Synopsis:
On the night of his 35th birthday, confirmed bachelor Robert contemplates his unmarried state. Over the course of a series of dinners, drinks, and even a wedding, his friends – "those good and crazy people [his] married friends" – explain the pro's and con's of taking on a spouse. The habitually single Robert is forced to question his adamant retention of bachelorhood during a hilarious array of interactions.
Tickets are available online at ShowTix4U.com. Tickets are also available at Bank of the Arts, Snapdragon WayCool Toys and at the door.
Tickets are $16 in advance, $19 at the door, and $10 for students.
For more information, please visit RiverTownePlayers.org, or like us on Facebook.
Submitted by: Sherry Thompson, RiverTowne Players