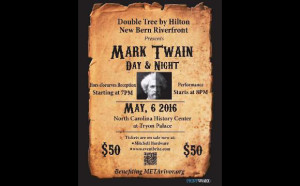 We caught up with Anna Bulszewicz, Morning News Anchor for WCTI Channel 12 to find out more about this special event. Listen to our interview here:

The Mark Twain Day and Night Event was founded by Anna Bulszewicz as a community collaborative effort to shed light on people living with Stage 4 Breast Cancer. She was inspired by her friend, Beth Fairchild.
Referring to Beth, Anna said, "She has mastered the art of survival"; I don't think anyone could've said it better.
When Beth found out that she had stage 4 metastatic breast cancer two years ago, she was told that she wasn't going to live.
Anna also told us about these staggering statistics, "30% of breast cancer cases are stage 4 and only 2% of funding goes towards research".
Instead of giving up, Beth has been a trailblazer to shed light on her disease in hopes of raising awareness for research. She joined Metivavor.org as an advocate by traveling across the US to help spread awareness for research in hopes of finding a cure.
Well know actor and writer for the New Bern Sun Journal, Bill Hand, will perform and tell the life story of Mark Twain.
The DoubleTree by Hilton will provide hors d'oeuvres and the North Carolina History Center at Tryon Palace donated the Cullman Performance Hall for this special event!
Get your tickets now for the Mark Twain Day and Night on Friday, May 6th at the North Carolina History Center at Tryon Palace. You can also purchase tickets at Mitchell Hardware. Tickets are $50.
The night begins with wine and hors d'oeuvres at 7:00pm in Mattocks Hall and the performance starts at 8:00pm in the Cullman Performance Hall.
Proceeds benefit METAvivor.org.
Tell us what you think by sending us an email or calling 252-638-6858. Visit New Bern Now's Facebook page or sign up for daily updates by submitting your email address in the right margin on New Bern Now's website.
Wendy Card