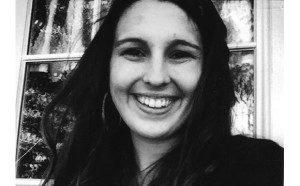 By Penny Zibula
Alexandria Kirian applied for the 2016 Coastal Women's Forum (CWF) Scholarship because she was caught between the proverbial rock and hard place. "I come from a middle class family," said the New Bern High School Senior. "Because of this, I don't qualify for financial aid or most scholarships." But college is an enormous expense, and Alexandria wants to focus on her studies, and not how she is going to pay for her education. As the winner of this year's CWF $2,000 Scholarship, some of that worry has been lifted off her young shoulders.
After graduating in the top 10 percent of her class and with four completed college credits, Alexandria will be enrolled in the Craven Community College (CCC) RIBN program. This will automatically guarantee her a place in a program that will ultimately earn Alexandria a bachelor's degree in nursing. She will attend CCC for three years, and will complete her fourth year online through East Carolina University. Alexandria hopes to find employment at Carolina East Medical Center when she graduates.
Alexandria set her heart on nursing when her great grandmother was in an Alzheimer's unit in a nursing home. "I saw how the nurses cared for the patients, and decided that this was what I wanted to do," she explained.
In preparation for her future in nursing, Alexandria job shadowed the school nurse at Trent Park Elementary School, and wrote her senior paper on the shortage of nurses.
Although nursing is Alexandria's passion, she is also a well-rounded young woman. Her volunteer experiences include working the concession stand for the local Babe Ruth baseball league. As a member, Alexandria also volunteered for several National Honor Society events, such as the Jingle Bell run with Bangert Elementary School. She has been working between nine and thirteen hours a week at Rollerland since July, 2014. Alexandria is also talented in other areas, playing the flute in the concert band and taking dance lessons. All this, along with her determination to succeed, commitment to education and compassion for others made Alexandria this year's choice for the CWF Scholarship.
Each November, scholarship applications are sent to area high schools. The deadline is in mid-March, when the selection process begins. The CWF Scholarship Committee works through an established process designed to select each year's recipient.
The basic requirements are to have maintained a minimum 3.2 GPA, to reside in Craven County, to graduate from high school at the end of the academic year and to turn in a completed form along with three essays.
The Committee uses a rating form to score each candidate in five categories: essays, school and community involvement, work experience, letters of recommendation and transcripts.
This year, there were 17 applicants, and the top three were interviewed. Then the Committee set about making the always-difficult decision as to which girl would receive the 2016 Scholarship.
"Alexandria was poised and passionate about her commitment to serving others through nursing," said Scholarship Committee Member and CWF Vice President, Jane Maulucci, "and her strong desire to stay within the New Bern community was impressive."
"It's important for me to take an active part in my community," said Alexandria." And through her involvement with CWF, she also sees the importance of networking. Perhaps we have a future CWF member in the making.
You can have the pleasure of meeting Alexandria at the Coastal Women's Forum May Dinner Meeting.
Date: Tuesday, May 3, 2016
Time: 5:30 PM for networking followed by dinner and program at 6:00.
Location:The Chelsea Restaurant
Cost:$18.00 for members, and $23.00 for guests
For more details about the May Dinner Meeting, or to learn more about what Coastal Women's Forum has to offer, visit www.CoastalWomensForum.com.
Submitted by: Penny Zibula, Freelance Writer, Editor, and Travel Blogger, SixLegsWillTravel.com