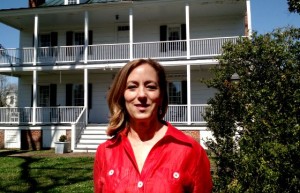 New Bern Historical Society President, Nelson McDaniel announced that after an extensive search, the Society has a New Executive Director in Mickey McAninch Miller. "I am pleased to announce the Board's decision. Mickey brings a passion and an experience that will serve the mission of the Society and the community very well. She follows Executive Director Lynne Harakal who resigned the position in order to become the Executive Director at Swiss Bear." He continued, "The Historical Society received a large number of applications for this position, many of which indicated wonderful qualifications. We are very grateful for the interest and support that these applicants demonstrated in our mission."
Miller and her husband, Jon, came to New Bern after 30 years in the military. She is a retired attorney and Army colonel who spent most of her service in the Army JAG Corps.  Her past career included practice in criminal law, personnel law, and environmental litigation; she has served as a legal advisor with peacekeeping units in Iraq and Bosnia, and as a program manager.  For the past two years, she was the program manager for the Choice Neighborhoods planning initiative, a transformational community revitalization program for New Bern's greater Five Points and Duffyfield communities.
Mickey says she believes "in investing in the community through civic engagement."  She will continue to do so with the Historical Society whose mission is to celebrate and promote New Bern and its heritage through events and education.
The Historical Society owns and manages New Bern Battlefield Park which recently unveiled an extended History Walk with 35 interpretive panels and a gateway plaza explaining the battle, its results and the aftermath.  They also own the Attmore Oliver House which is the home of its offices, museum installations and its collection of New Bern history.  Events by the Historical Society include Ghostwalk, Spring Historic Homes and Gardens Tour (in conjunction with the New Bern Preservation Foundation), Lunch & Learn and  Harry Goodman Adventure Day at New Bern Battlefield Park.
For more information about the New Bern Historical Society, call 252-638-8558 or go to NewBernHistorical.org.
Submitted by: Kathy Morrison, New Bern Historical Society