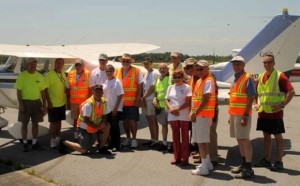 The Young Eagles, an Experimental Aircraft Association (EAA) program, is intended to introduce our nations' youth to some of the many career possibilities in aviation. The event is sponsored by The Flying Bears, the local Chapter 1171 of the EAA. The event will be held on April 16 at the Coastal Carolina Regional Airport facilities of Tradewind Aviation.
This years' event will be attended by over 100 young women from local Girl Scout organizations. Aviation topics will include aviation weather, the four forces of flight and military aviation. There will also be tours of the airport control tower and a demonstration of aircraft flight controls. A highlight of this event will be 20 minute aircraft flights with local EAA pilots who have volunteered their aircraft and time. Girl Scout participants will experience the thrill of flight and what New Bern looks like from the air.
The scouts will be able to talk with Wing Commander Lt Col Melissa P. Kelly regarding careers for women in the military. Representatives from the Ninety-Nines, an international organization of woman pilots from 35 countries will also be present to answer questions regarding their interests and participation in aviation.
The event will leave the Girl Scouts with a good understanding of the possibilities for woman in aviation.
For more information, contact Frank Albertini at 252-349-8355.
Submitted by: Rick Schans, Flyin' Bears, EEA Chapter 1171