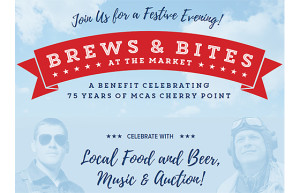 Thursday, April 28th
5:30pm – 7:30pm
Join us for a Festive Evening! A Benefit celebrating 75 years of MCAS Cherry Point.
Celebrate with local Food and Beer, Music and Auction!
Proceeds benefit Allies for Cherry Point's Tomorrow's efforts to protect and grow MCAS Cherry Point, FRC East and its civilian enterprises.
Tickets are $35 in advance and $50 at the door. They can be purchased online here.
For more information, visit AlliesforCherryPoint.com or call 252-631-5021.
Submitted by: Shannon LuQuire, Trade Ideas Inc.