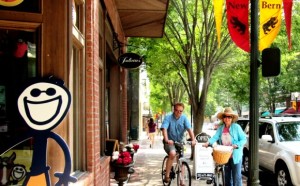 11th: ArtWalk throughout Downtown New Bern, 5:00pm – 8:00pm, presented by the Craven Arts Council at the Bank of the Arts. 252-638-2577.
11th: ARTcrawl presented by the Community Artist Will, 5:00pm – 8:00pm at the Center for the Arts, Isaac Taylor House and Gardens, and numerous locations in Downtown New Bern. Call 252-649-1712.
11th – 13th: Disney's Mulan, JR, Fri – Sat: 7:30pm; Sun: 2pm at the New Bern Civic Theatre. Call 252-633-0567.
12th: Downtown DARE presented by Epiphany School of Global Studies. Call 252-638-0122.
12th: NPSWC Cupid Crawl 5K for Sickle Cell, 7:00am at  Union Point Park. Call 252-617-0798.
12th: USCG Auxillary Navigating Local Waters Boaters Class, 9:00am to Noon at the Fairfield Harbour Community Center (at firehouse) off Broad Creek Rd. Call 252-638-5588.
12th: 10th Annual Building Brighter Futures Early Childhood Conference on the New Bern Campus of Craven Community College. Hosted by Craven Smart Start and Child Care Resource and Referral. Call 252-671-0689.
12th: Youth Advocacy for Substance Abuse Prevention Training Presented by YES! 10:00am – 3:00pm for youth ages 14 – 20 at 233 Middle St. Call 252-649-1615.
12th: Garden Lecture Series – Gardening Recipes and Challenges, 10:00am at the North Carolina History Center. Call 252-639-3500.
12th: Book Signing "Terror's Identity" by Sarah Maury Swan, 1:00pm – 3:00pm at Fine Art at Baxters. Call 252-671-2724.
12th: Dennis Cash in Concert with Simon Spalding, 7:00pm at the Trent River Coffee Company. Call 252-514-2030.
12th – 13th: New Bern Home and Garden Show at the New Bern Riverfront Convention Center. Call 252-635-5622.
13th: New Bern Civic Strings Spring Concert, 3:00pm at Centenary Methodist Church. Call 252-626-9704.