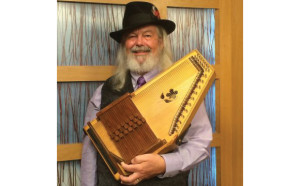 Dennis Cash will perform Bluegrass, Gospel, and Old Time Music in New Bern on Saturday, March 12. Performing on voice, guitar, autoharp, and other instruments, Dennis will share the stage with local performer Simon Spalding.
Dennis Cash grew up in Lynchburg, Virginia, and has made a lifelong study of the music of the Carter Family, early Country and Ragtime, and North Carolina Old Time Music. Dennis has toured nationally, solo and with his Bluegrass Gospel group "Carolina Sonshine". He was inducted into America's Old Time Country Music Hall of Fame in 2014. Dennis usually accompanies his voice with autoharp and guitar, but has turned his hand to other instruments on occasion.
Dennis will share the stage with local musician Simon Spalding, who will be primarily playing fiddle and banjo.
Dennis Cash will perform at Trent River Coffee Company, 208 Craven St., New Bern, on Saturday March 12. Tickets are $10, available at the door. The doors open at 6:00 pm, and the show starts at 7pm. CDs of Dennis's music and Carolina Sonshine will be available for purchase at the concert.
For reservations or more information, call 252-514-2030. For more on Dennis Cash, check out his website at DennisCashMusic.com.
Submitted by: Simon Spalding