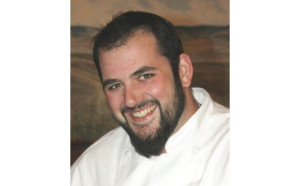 Persimmons Restaurant, a popular waterfront dining destination in New Bern, has hired nationally-acclaimed and award-winning chef Antonio Campolio as its new executive chef. Campolio will oversee all aspects of food service, including menu creation and the sourcing of ingredients with a special emphasis on local products.
Campolio began his culinary career as a child at his family's restaurant in West Virginia. At age 12 he began working at the world-famous Greenbrier Hotel as a dishwasher. Throughout high school, Campolio worked his way through the Greenbrier's Culinary Internship Program, learning valuable skills he still uses daily. After his time at the Greenbrier, Chef Campolio continued his career at 700 Drayton in Savannah, Ga. and later at the Broadmoor Hotel in Colorado Springs, Co. Before coming to Persimmons, Chef Campolio was the executive chef at the Marcus Whitman Hotel in Walla Walla, Wa., where he lead the restaurant to numerous national accolades including Restaurant of the Year by the Washington Wine Commission. During his time in Washington, Chef Campolio was invited to cook a meal at the James Beard House, one of the highest honors a chef can receive.
"We're couldn't be more excited to have Chef Antonio on board," said Dean Quadir, general manager at Persimmons. "Not only is he a nationally-recognized, award-winning chef, but he truly has a vision for the restaurant. We're looking forward to a bright future at Persimmons with Antonio at the helm."
In his new role at Persimmons, Campolio says he will focus on fresh, seasonal ingredients and has already established relationships with local farmers, ranchers and breweries. Campolio anticipates the menu will change one to two times a season, to represent the best available produce at the time.
"Simple food using local ingredients has become really trendy lately," said Campolio. "I grew up that way because that's all we had, so that's how I like to cook."
Campolio's vision for Persimmons is for it to be a favorite of both locals and tourists alike, and a place to go for any occasion.
"Whether you're just stopping by for a beer and appetizer on the deck on a sunny afternoon or enjoying a lunch or dinner, we want Persimmons to be a place you know you'll get fresh and delicious food no matter the occasion," said Campolio.
Persimmons is open for lunch and dinner Tuesday through Sunday. Reservations can be made by calling (252)514-0033 or by visiting PersimmonsRestaurant.com.
About Persimmons: Persimmons Waterfront Restaurant, located in historic, downtown New Bern, N.C., offers waterfront views of the Neuse River with an elegant yet casual atmosphere and fresh, modern dishes made from locally-sourced ingredients. At Persimmons, expect the friendliest service around, excellent food and drinks from our award-winning chef, and a spectacular view from three distinct dining areas: our downstairs great room, our private upstairs dining area, or our beautiful waterfront deck.
Submitted by: Lindsay Priester, Senior Manager, Client Relations, Rountree Communications