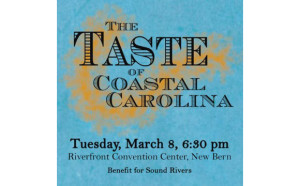 Local Residents and Visitors – Prepare Your Palates!
On Tuesday evening, March 8th, Sound Rivers will host its 13th annual Taste of Coastal Carolina, which will be held at New Bern's Riverfront Convention Center.  This event brings together area restaurants, caterers, bakeries and more to provide attendees a range of mouthwatering samples. Your ticket lets you enjoy an unforgettable evening exploring Eastern North Carolina's tantalizing culinary arts scene.  Taste amazing dishes again this year from last year's winners; Annabelle's, Persimmons Restaurant, Skylight Inn BBQ, Christoph's on the Water, and the Village Butcher.
This year's event will also feature signature dishes from several restaurants that will be joining the Taste for the first time including the highly acclaimed La Casetta, Sweet Pea's Cafe, Panera Bread, Country Biscuit, and Fat Fellas BBQ and Grille.  Lots of other New Bern favorites that have participated in past Taste events will also be there: The Flame Catering and Banquet Center, Trent River Coffee, Cow Café, Friday's 1890 Seafood, Kitchen on Trent, Strange and Sons Catering, TaTa's Takeout Cafe, Bay Leaf, Cilantro's Mexican Grill, and Passanante's Home Food Services.  We'll also be serving desserts from: Kreative Cakez and Soo's Chocolate & Bakery.
Enjoy the festivities and help raise money to improve water quality in the local rivers.  Patron tickets are available at $100 per person and include unlimited sampling from all food vendors, a 'Champagne Reception', reserved seating, and unlimited beer and wine.  In addition, $65 of the ticket price is a tax-deductible contribution to the Sound Rivers. Tickets can be purchased online at www.soundrivers.org. or at Cravin' Wine, Mitchell Hardware or Pinecone Perennials.
The 2016 Taste sponsors include Coastal Carolina Health Care, P.A., Fisher Fuel Markets, Northwest Creek Marina, Nicholas Sparks (did anyone confirm whether or not Nicholas wants to be anonymous or credited?), Lynne Davenport/Century 21 Zaytoun Raines, Coldwell Banker Willis Smith, Andy Davidson in memory of Dr. and Mrs. Alan Davidson, A Dog's Dream, Kiddie Kollege Learning Center, Beasley Broadcasting, Natty Greene's, Minges Bottling, Galley Stores, RA Jeffreys, and La Rosa.  Without the support of these generous businesses and individuals, the Taste would not be possible.
Sound Rivers is a 501(c)3 charitable organization that combined the Neuse and Pamlico-Tar River Foundations through a merger in April 2015.  Sound Rivers mission is to protect, preserve and improve water quality in the Neuse and Tar-Pamlico River and tributaries.  The organization maintains three Riverkeeper programs, including the Lower Neuse Riverkeeper in New Bern.  The Neuse and Trent Rivers remain threatened by polluted runoff, coal ash, illegal discharges, and lax enforcement of environmental rules.  Sound Rivers depends on individual memberships and contributions as it seeks to unite the public in order to ensure clean water for drinking, recreation and enjoyment to the all the communities that it serves.
Submitted by: Lynne Davenport, Sound Rivers Neuse and Pamlico-Tar River Foundation