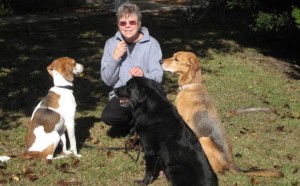 Pet Sitters International (PSI), the world's largest association for professional pet sitters celebrates, PSI's 22nd annual Professional Pet Sitters Week March 6-12. A PSI Certified Professional pet sitter is committed to providing excellent care for your pet because they love your pet and it's their business.
That's why Jeanne Crockett of Crockett's Critter Care became certified by PSI; she loved the animals and wanted to have a firm foundation for her service. She earned her designation through careful study and years of experience working with animals of all shapes and sizes. "And I continue to learn. I've taken courses in Canine Coaching, Feline Behavior Management, and Senior Pet Care to be sure I have the skills my pet parents need," says Ms. Crockett.
Crockett's Critter Care was founded in 2011, when Jeanne left the corporate world and made a full time commitment to solely focusing on providing excellent pet care. Whether she is out on a daily stroll with a senior dog or leash training for a new puppy, doing a weekend check-in on a friendly feline or taking a peek at a parakeet, her clients know that she is committed to caring for their pets as if they were her own. Jeanne noted: "I've always been active in animal welfare issues, and now I get to tend to these wonderful characters every day!"
Many of her clients have older pets that need a gentle voice and calm hand to comfort them when their owners are traveling for a few days or even just on their daily commute. Crockett's knowledge of Pet First Aid and CPR provide invaluable peace of mind for the families she serves.  Plus, she is also bonded and insured for her client's safety as well.
Her services cover fish, fowl, feline, canine, caprine, equine, and even bovine; but nothing in the reptilian class.  And she is not one to turn down a challenge like getting Smokey or Sam to the vet or the groomer, "Let me step in," says Crockett, "and I'll be your taxi service to get them where they need to go happily, safely, and securely."
Caring for your pet is a business and a pleasure for Jeanne Crockett. The areas she serves are Derby Park, Downtown New Bern, Greenbrier, River Bend, and Trent Woods. Contact Crockett's Critter Care to learn how Jeanne can professionally care for your pet.
Submitted by: Jane Maulucci, The Reactive Voice