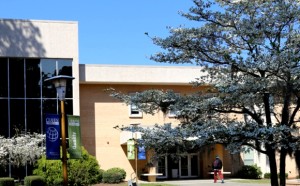 Craven Community College (CCC) Board of Trustees signed a resolution in support of the $2 billion Connect NC Bond. If approved by the residents of North Carolina on March 15, 2016, the North Carolina Community College system will receive $350 million for new construction, repairs or renovations at all 58 community colleges. The bond does not require new taxes now or in the future.
CCC will receive $5.37 million to improve student registration and advising services at the New Bern campus, and to build a STEM-focused (science, technology, engineering and math) education building on the Havelock campus.
"Now is the right time to invest in our community college and its students who will benefit long after this investment has been made," said Kevin Roberts, CCC Board of Trustees chair.
"The Connect NC Bond will enable the college to continue to provide students with a modern infrastructure that supports success. In the case of the proposed Havelock campus STEM building, it will provide the infrastructure needed to educate and prepare students for high-demand, STEM-related careers," said Dr. Raymond Staats, CCC president.
Founded in 1965, Craven Community College is part of the North Carolina Community College System. With campuses in New Bern and Havelock-Cherry Point, Craven serves about 3,200 curriculum students and more than 10,000 continuing education students each year. The college offers a wide range of associate degree and certificate programs, as well as college transfer courses, career and occupational offerings, partnerships with four-year universities, specialized workforce training options, developmental studies and basic skills classes. Craven Early College High School programs are available on both campuses. Craven is also home to Public Radio East, one of the few community colleges nationally with this distinction. For more information about the college, visit CravenCC.edu.
Editor's Note: There will be a public preview of the proposed STEM Center on the Havelock campus (305 Cunningham Blvd., Institute for Aeronautical Technology Hangar) on Wednesday, February 10, from 5-7 p.m.
Submitted by: Deborah Kania, Director of Marketing, Communications & Development Liaison, Craven Community College