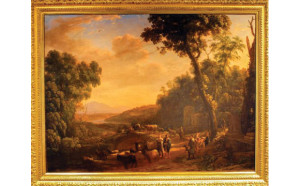 Over 170 artifacts from the Tryon Palace Collection can be viewed online by people around the world due to a new partnership between the Google Cultural Institute and Tryon Palace. Thanks to this new virtual exhibition, users will be able to see inside the Governor's Palace, historic homes, gardens and the North Carolina History Center, as well as many of the treasures from the Tryon Palace Collection in just a few clicks here.
Tryon Palace research historian Siobhan Fitzpatrick said this partnership with the Google Cultural Institute is a great way to make the history of the Palace and New Bern even more accessible to the public.
"This is a wonderful opportunity to share our history and collections with a wider audience," Fitzpatrick said. "We are excited for people to learn about Tryon Palace and New Bern's past through these digital collections and exhibits."
Virtual tour with Street View
Using the Street View feature, people can virtually move around the Governor's Palace, gardens, historic homes and the North Carolina History Center. During this virtual tour, they will be able to click a selection of works that interest them to discover more about the piece, and in some cases, explore high resolution images.
A specially designed Street View 'trolley' took 360-degree images of selected galleries which were then stitched together, enabling smooth navigation of over 15 rooms and acres of gardens at Tryon Palace, including views inside the Governor's Palace great stair hall, the original Stable Office building, and the first floor of the New Bern Academy Museum.
Digital exhibits
Specially curated virtual exhibits have been developed for online visitors who can discover three interactive exhibits, curated by experts at Tryon Palace. The digital exhibitions tell the story of prominent New Bern families in "Faces of New Bern," rare items from the Tryon Palace Collection in the "Cabinet of Curiosity" and the 20th-century rebuilding of the Palace in "Rebuilding Tryon Palace."
Some of the most important items of the online exhibition are:
– The 1782 Charles Willson Peale portrait of John Wright Stanly's children. 
– A 19th century miniature book press from Holland. 
– A 1775 North Carolina banknote that bears the only known image created of Tryon Palace while the original Palace was still standing.
The "Pastoral Landscape with Huntsmen" by Claude Lorrain and other pieces of art can now be viewed in never before seen definition thanks to Gigapixel technology, a powerful photo capturing process which has enabled the highest ever resolution image of this feature. Viewers can explore extraordinary details-such as the huntsmen and other characters portrayed in the painting-far beyond what is visible to the naked eye.
Submitted by: Craig Ramey, Marketing and Communications, Manager, Tryon Palace