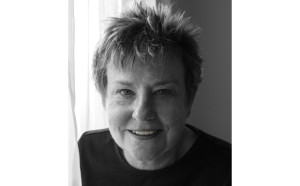 Award winning poet Jeanne Julian will be the Featured Poet at the First Tuesday Poetry Open Mike at 7:00 pm at the Trent River Coffee Company on Tuesday, February 2.
Jeanne's chapbook, Blossom and Loss, was the winner of the 2015 Longleaf Press chapbook contest at Methodist University.
Poet David Poston described Jeanne's poetry as "an exploration into the dualities in the natural world. She lays bare the human heart with all its contradictions. These poems challenge and resonate; the reader will be haunted by them."
Lori Desrosiers, author of The Philosopher's Daughter, says, "Blossom and Loss plunges into stories of characters encountered, travel, love and loss all at a crossroads, a place between worlds. Jeanne Julian's endings are gorgeous and dark, raising the hair on the back of the reader's neck."
Her award winning work has appeared in numerous publications including Naugatuck River Review, Kakalak, Earth's Daughters, and Southern Review.
Her poem The Insouciant Translator won third prize in 2014 in The Comstock Review's Muriel Craft Bailey Contest. Last year she also placed first in the North Carolina Poetry Society's Mary Ruffin Poole Award competition, and won honors in the NCPS Thomas H. McDill Award and Catherine Scott Award competitions.
Jeanne grew up in Ohio and attended Allegheny College, where she studied under the late novelist Alfred Kern. She earned an MFA in fiction from the University of Massachusetts, Amherst.  Among other writing jobs she worked as a researcher with Merriam-Webster Inc., working on words starting with "L" for a collegiate dictionary.
The event is free and after the Featured Poet reads, the mike will be open for other poets who sign up. The First Tuesday Poetry Open Mike is sponsored by the Nexus Poets, a group of Eastern Carolina poets promoting poetry in the area. Trent River Coffee Company is located at 208 Craven Street in New Bern.
Submitted by: Sam Love