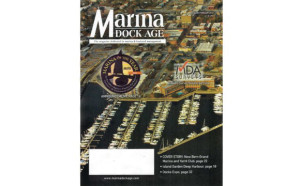 The New Bern Grand Marina Yacht Club was recently featured as the cover story in Marina Dock Age's January/February 2016 issue.
The New Bern Grand Marina received national recognition recently as the cover story in Marina Dock Age, a magazine dedicated to marina & boatyard management. Marina Dock Age's mission is to provide marina/boatyard owners and managers with the information they need to operate more efficiently, expand their business, and improve their profitability. The magazine is distributed to over 16,000 marina and boatyard owners, designers, managers, financiers, consultants, builders and published on-line at MarinaDockage.com.
After Marina Ventures 223, LLC acquired the marina; the new owners diligently began working with the City of New Bern and local business community to transform the marina through a series of enhancements that would showcase the beauty of the marina and historic charm of down town New Bern. "It became apparent early on that there was a need for public access docks along New Bern's waterfront, so the marina offers up to 30 slips for use either as temporary dockage or transient parking at the marina. Z-dock offers public access to the marina. During periods of high demand, additional slips can also be made available. We simply ask the day visitors register at the Dockmaster's office. Our hope is that their visit to the marina and New Bern will be so delightful, they either elect to extend their stay or make the New Bern Grand Marina Yacht Club their new home." states, Millissa True, on-site consultant, New Bern Grand Marina Yacht Club.
Two of the biggest improvements were a re-cabling project that totaled over $150,000 which provided more reliable WiFi service, as well as more than 150 HD/TV channels, and the installation of a marina camera that allows slip holders and tenants to view their boat at any time via a live internet feed.
The New Bern Grand Marina Yacht Club has been referred to as the "Jewel of Historic New Bern" and has been pictured and featured in many local and state publications. Walking distance and just minutes from New Bern's historic district, a host of quaint boutiques, The NC History Center and Tryon Palace, fine and casual dining, along with several parks, walking trails, trolley rides and ghost tours–the marina claims title to simply one of the best marina locations in eastern North Carolina.  A limited number of slips are available for purchase and a unique slip rental program which make living the lifestyle you've dreamed of a possibility. Member benefits include WiFi service, HD cable, valet baggage service, dine-in service, secure marina cam, pool and fitness center, yacht club facilities, hotel, dining and merchant loyalty discounts. For more information, call The New Bern Grand Marina Yacht Club at 252-633-6070 or go to NewBernGrandMarinaYachtClub.com.
Millissa True, On-site Consultant-Marketing & Customer Relations, New Bern Grand Marina Yacht Club